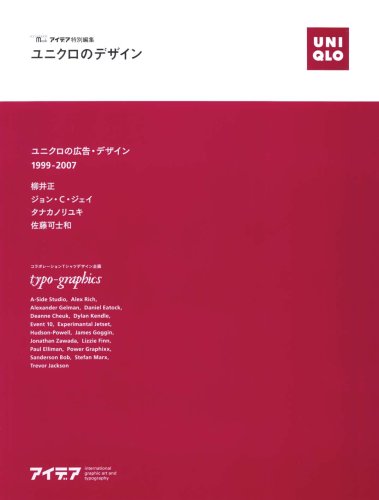 Design of UNIQLO
Published: 2008/04/01
Price: 定価3,080円/2,800+tax jp yen
ISBN 978-4-416-60830-2
「order」のリンクより(株)誠文堂新光社サイトのオンラインショッピングをご利用いただけます。送料やお支払いについての詳しい情報は、同サイトの案内に従ってください。
Edited by IDEA.
Softcover, 225 x 297mm, 240 pages
A visual research on design and advertisements of UNIQLO from 1997, and Interviews with creative directors and stuffs.
Contents
interviews
Tadashi Yanai, John C. Jay, Noriyuki Tanaka, Kashiwa Sato, Markus Kiersztan.
Special Projects
Proposals of T-shirts design by 17 designers.Some of the designs are to be sold on UNIQLO shops over the worlds. Please check UNIQLO site (http://www.uniqlo.com).
Dylan Kendle, Hudson-Powell, Paul Elliman,
Jonathan Zawada, Power Graphixx,
Experimental Jetset, Trevor Jackson, A-Side Studio,
Deanne Cheuk, Alex Rich, Stefan Marx,
James Goggin, Lizzie Finn, Alexander Gelman,
Event 10, Sanderson Bob, Daniel Eatock