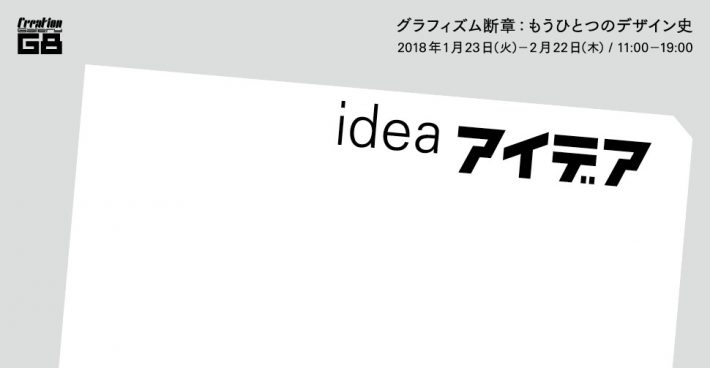 Fragments of Graphism: An Alternative History of Graphic Design in Japan
Venue: CREATION GALLERY G8
Address: Recruit Ginza 8 Bldg., 1F
8-4-17 Ginza, Chuo-ku, Tokyo 104-8001
Dates : January 23 (Tue) – February 22 (Thu), 2018
Hours : 11:00 a.m. – 7:00 p.m. Closed Sundays and Holidays.
Admission free.
Contributors
---
Room A:13 interpretations of graphic design in Japan thus far

Takasuke Onishi
Born in Saitama in 1976. After finishing Law School, graduated in graphic design at Tama Art University. Established direction Q in 2009. Involved in total direction from brand image to application, also running iruinai, a project supporting creative people, culture and the arts. Lecturer at Meme Design School, Nagaoka Institute of Design.

Daijiro Ohara
Born in Kanagawa in 1987. In addition to design work, develops various projects investigating language and characters through exhibitions and workshops. Projects in recent years include Mojyuryoku which uses typography mobiles and a theme of gravity, Ryosen (Ridgeline), a graphic series and reproduction of mountain photography and climbing diagrams, and TypogRAPy, a spoken and written performance, in addition to others. Winner of the JAGDA Rookie of the Year award and the Tokyo TDC Award.

Kensaku Kato
Born in Saitama in 1975. Representative of Laboratories Co. Involved in graphic design, book design, web design and sign design in addition to others. Main areas include art and architecture, ideology, fashion, etc.

Jun Kawana
Born in Chiba in 1976. Established Jun Kawana Book Design Office in 2017 after working at Pri Graphics. Managing various book publications, and editorial design for magazines.

Atsuki Kikuchi
Born in Tokyo in 1974. Partly completed the sculpture course at Musashino Art University. In addition the art direction for Mina Perhonen 2003-2004 and Sally Scott (2002-), has worked on VI signage for Aomori Museum of Art (2006-) and Omiyamae Gymnasium (2014). Magazine and book design includes Jungamarugoto (2007-12), Souen (2013), Nikkei Kairou (2015-16), and the package design for Kamenoko Sponge, as well as numerous works in art, architecture fashion and crafts. Also Supervises the book label BOOK PEAK publishing art books.

Yui Takada
Born in Tokyo in 1980. Company director of Allright Co. Graduate of Kuwasawa Design School. Established the design office Allright Graphics in 2006 and letterpress printing workshop Allright Printing in 2007. Established the music label Allright Music in 2017. Associate professor at Tokyo University of Art and Design.

Yoshihisa Tanaka
Born in Hamamatsu City in Shizuoka, 1980. Graduated from the department of Sceneography, Space and Fashion Design at Musashino Art University. Involved in VI planning for commercial galleries starting with Tokyo Metropolitan Museum of Photography, and the art direction of Art Book Fair, Art Fair Tokyo, Daiknyama Photo Fair, and more. Also continually involved in the design and creation of artist anthologies. Involved with Ryuta Iida (sculptor) in the artist duo, Nerhol.

Ryoji Tanaka
Born in Mie prefecture in 1975. Graduated from Doshisha Univeristy department of technology and International Academy of Media Arts and Sciences (Gifu). Established Semitransparent Design in 2003. Involved in website planning and creation and exhibitions of work. Chief work includes tFont/fTime (YCAM), Semitora Exhibition (G8), and the planning of Taikutsu (Bored) Exhibition (ggg), Illuminating Graphics Exhibition (G8). Won JAGDA Rookie of the Year Award in 2015.

Koh Chihara
Born in Tokyo in 1971. Graduated from the Art and Design department at Tama Art University in 1996. Started work at Tachibana Hajime Design Co. while still in University in 1995. Became independent in 1998. Held the BICHA-BICHA EXHIBITION (GAS SHOP) in 2003. Completed the 6th term at Shinjyuku Shijyuku at Robundo Typography School. Part time lecturer at Tama Art Univeristy in the Faculty of Art and Communication from 2007-17, in charge of Wild Ideas (practical) and Reality (seminar). Involved in a wide variety of things centered around graphic design, regardless of their medium.

Rikako Nagashima
Born in Ibaraki in 1980. Graduated from Musashino Art University. Supervising village® since 2014. Contribues to the question of existing assumptions and awareness of value transformation; designs perceptual information as an intermediate to ideas in question. Work up till now includes Sapporo International Art Festival 2014 with the theme 'city/nature' from Ryuuichi Sakamoto; Night Cruising, a documentary film following a blind main character; Tohoku Youth Orchestra, which is made up of children from disaster stuck areas, and PEACE SHADOW PROJECT, a joint work with contemporary artist Tatsuo Miyajima questioning the existance of nuclear weaponry.

Takeo Nakano
Born in Tokyo in 1977. Graduated from Musashino Art University. Established Nakano Design Office after working at Fukui Design Office. Making explorations into the potential of graphic design following the themes of organizing information and visualizing context. Won the grand prize for the Japan Typography Association's Applied Typography and Minister of Economy Trade and Industry award at the Japan Book Design Awards. Chosen for the International Lahti Poster Biennial and the Moscow Global Biennale of Graphic Design. Exhibited as an invited artist in TYPOJANCHI 2011 SEOUL: International Typography Biennale.

So Hashizume
Born in Hiroshima prefecture in 1978. Graduated from the Visual Communication Design Department at Musashino Art University. Completed the master's course in communication art and design at the Royal College of Art (RCA) in England. Part-time lecturer in visual design at Joshibi University of Art and Design. Involved in a wide area of art direction and graphic design, planning exhibitions and workshops with a focus and implementation themes, and the development of educational programs.
Akinobu Maeda
Born in Aichi prefecture in 1976. Participant in the design team ILLDOZER. After their dissolution, has been working as an art director/graphic designer on a wide variety of things centered around advertisitng and catalogues and packages. Currently employed as a art director at TOO MUCH MAGAZINE and POPEYE.
---
Room B:The entire archive of IDEA magazine
Installation by

---
RoomC:A library for a highly-anticipated graphic design

Hirofumi Abe
Born in Tokyo. Graduated from School of Humanities and Social Sciences at Waseda University and the Visual Communication Department at Hochschule für Gestaltung und Kunst Basel (FHNW Academy of Art and Design, Basel). Worked in a design office, and has been supervising Print Gallery Tokyo since 2012, a studio for design, research and exhibition, which holds exhibitions at an unusual pace. Part time lecturer at Kuwasawa Design School and Tama Art University.

Tomoyuki Arima
Art director. Born in Nagasaki. Enrolled in the Nippon Design Center in 2009; Aims to and puts design into practice that is unrestricted by media. Supervising the SF label DAISYWORLD and the music label GEOGRAPHIC.。
Shohei Iida
Born in Chiba prefecture in 1988. While enrolled in the Department of Architecture at Musashino Art University, published a magazine about cities. Left university mid-term and has been working as a freelance designer since 2012. Moved to Kamakura in 2017.

Yoshiaki Irobe
グラフィックデザイナー。1974年千葉県生まれ。株式会社日本デザインセンター色部デザイン研究室主宰。市原湖畔美術館、草間彌生美術館、天理駅前広場など公共施設のVIとサイン計画を数多く手がける。TAKEO PAPER SHOW 2011 「本」や色部義昭:WALL、富山県美術館の目印と矢印などの展覧会を通じて「グラフィックデザインの機能を拡げていくこと」をテーマに活動している。JAGDA、東京ADC、D&AD、OneShowなど国内外のデザイン賞を受賞。AGI、東京ADC、JAGDAの会員。

Yuri Uenishi
1987年生まれ。東京都出身。2010年多摩美術大学グラフィックデザイン学科卒業、同年電通入社。総合的なブランディングやキャンペーンや、ポスター、ロゴ、パッケージ、映像、空間、本、雑誌など仕事は多岐にわたる。主な受賞歴:東京ADC賞、JAGDA新人賞、JAGDA賞、富山ポスタートリエンナーレ銀賞、NYADC金賞、D&AD金賞、CANNES LIONS金賞など。

Rina Okazawa
Born in 1980, hometown Nara. Interface designer. After graduating from the Institute of Advanced Media Arts and Sciences (IAMAS) in Gifu, has been working as a freelancer on book design and websites based in Tokyo, and also teaching part time in universities. Between Yesterday & Tomorrow, a project by the video label SOL CHORD—where he works as an art director—won an award for excellence in the Art Category of the 16th Japan Media Arts Festival.

Ken Okamoto
Born in Gunma in 1983. Majored in psychology in Department of Letters, Division of Behavioral Science, Chiba University; took an interest in graphic design (part of his study) and changed courses. After graduation, gained practical experience in various design offices including at Vol Co. and Taku Sato Design Office Inc. and became independent in 2013. Established Ken Okamoto Design Office Co. in 2015. Concurrently working as a part time teacher in the Integrated Design Course at Tama Art University.

Chikako Oguma
Graduated in painting from Nihon University College of Art. After working in a design office and MOVE Art Management, became a freelancer in 2011. Managing graphic design centered around book design, VI, CI, branding and package design. Supervising Little Book Label YOU ARE HERE. Won the platinum award from Graphic Poster Annual 2018 and gold from Graphis Advertising Annual 2018. Posters are part of the Museum fuer Gestaltung Zuerich collection. Holds many exhibitions both in and outside Japan.

Shunsuke Onaka
Born in Ube City, Yamaguchi, in 1975. Established Calamari Inc. in 2007. Mainly involved in art-related printed material and publications. Recent work includes Hattori Tamura, Essay: Glory and the end, or Week End (Oyama City Kurumaya Museum of Art), the collection I'm calling you (AHA! collection/Musashino Municipal Kichijoji Museum, Arin Rungjang (Kyoto City University of Arts, Gallery @KCUA), Takashi Serizawa + Chihiro Minato: The Language of Spaceships (ABI+P3), and more. Poetry collection CUL-DE-SAC was a final candidate for the 15th Chuuya Nakahara Award. Supervising the publishing label pub.

Fumikazu Ohara
1975年高知生まれ。アートディレクター/スープ・デザイン代表。雑誌や書籍・図録やカタログなど本のデザインを中心として、店舗や展覧会のアートディレクションなど、多岐にわたり活動。そのほか、マルチプル・レーベルを主宰し、写真集や画集の出版などを制作する。著書に『逆行』(ミシマ社)、『デザインの手がかり』(誠文堂新光社)、プロダクト作品『Rule Book』(E&Y)を発表。今年夏、ギャラリーの開設、雑誌『ATLANTIS』を創刊予定など再構築に向かう。

Toru Kase
Born in Saitama in 1987. Graphic designer and art director. After graduating from Rikkyo University/Kuwasawa Design School, worked in design companies within the city before becoming a freelancer in 2015. Design work includes advertisements, package design, books, magazines, CI and websites.

Yuzo Kariya
1979年東京生まれ、兵庫県宝塚市育ち。1998-2003年、大阪工業大学工学部建築学科。2003-05年、東京工業大学大学院理工学研究科建築学専攻、塚本由晴研究室研究生。2005-06年、アトリエ・ワン。2006-10年、schtücco。2010年よりneucitora主宰。

Tadao Kwamura
After graduating from Jiyu Gakuen College and Tokyo University of the Arts, from 2010-2011 was a temporary staff in charge of design affairs both inside and outside the city office of Kitamoto City in Saitama, while working as a designer. Making use of the Agency for Cultural Affairs' overseas training program, attended training in New York from 2015-2016. Has been working as a part-time lecturer at Jiyu Gakuen College since 2013. Currently a resident of Yokohama City.
Toshimasa Kimura
Born in Ibaraki in 1978. Graduated from Werkplaats Typografie (ArtEZ institute of the Arts, Graphic Design Department, master's course) in 2006. After leaving the design company schtucco, has been freelancing since 2010.

Hiroyasu Kimura
Member of Rhizomatiks Design Co. Art director/interface designer. After graduating from Tokyo University of Art and Design, joined Rhizomatiks. Recent principal work includes The Blind Spot of Graphic Design (ggg), the publicity for Bunkamura Orchard Hall, Verdi: Opera "Otello" and FIND 47 for the Ministry of Economy, Trade and Industry. Has won many awards including the top award for the Japan Media Arts Festival.

Akihiro Kumagaya
Born in Tokyo in 1984. Managing a comprehensive design and direction that begins with a unique point of view & inquiry, followed by research and conceptual making/planning: one that seeks for the relationship and structure between things. Main work includes the planning, editorial supervision and venue design of the Stock Exhibition at Muji in Seibu Ikebukuro; curation for the Yanagimoto Koichi Exhibition, concept research for 21_21 Design Sight's Zakka Exhibition, art direction for Shibuya Hikarie's Creative Lounge MOV aiiima and the product design for the Olympus Camera Bag CBG-2. Editor of STOCK (Muji Books, 2017).

Tetsuya Goto
デザイナー。OOO Projectsディレクター。近畿大学文芸学部専任講師。主にグラフィックデザイン周辺の研究に取り組み、HFBK(ドイツ)客員研究員として、非西欧地域でのグラフックデザインを調査研究する「InterGraphicView」にも参加している。グラフィックデザインに関する展覧会も手がけ、本展では室賀清徳とともに企画を担当。2018年4月には、dddギャラリー(京都)で『アイデア』での連載「YELLOW PAGES」をまとめた展覧会を予定している。

Satoshi Kondo
Graphic designer. Representative of Asatte Design Office. Born in Osaka in 1976. Graduated from the Faculty of Human Development at Kobe University. Graduated from IMI (Inter Medium Institute). Established Asatte Design Office in 2010. Places importance on discovering problems that need solving and aims to find solutions through graphic centered design. Part-time lecturer at Kobe Design University since 2011 and Kyoto University of Art and Design since 2014.

Shun Sasaki
Born in Sendai in 1985. Graduated from the Graphic Design Course at Tama Art University. After working at Ad Brain and Gritz Design, established the design office AYOND in 2016.

佐藤亜沙美
1982年生まれ。グラフィックデザイナー。2006年~2014年コズフィッシュ在籍。2014年サトウサンカイ設立。2016年から「Quick Japan」アートディレクターを務める。これまでの主な装丁に、こうの史代『ぼおるぺん 古事記(一)~(三)』(平凡社)、都築響一『圏外編集者』(朝日出版社)、いとうせいこう『親愛なる』(河出書房新社)、園山俊二『ギャートルズ(肉の巻)(恋の巻)(無常の巻)』(パルコ)など。

Yusuke Shono
兵庫県生まれ。デザイナー、エディター。
オンラインマガジン「MASSAGE」の編集と運営。デザイン業の傍ら、自主メディアを通じてオンライン・アンダーグラウンドの領域で生みだされている作品やライフスタイル・出来事などに関する、様々な情報を発信し続けている。

Keita Shimbo & Misako Shimbo (smbetsmb)
smbetsmb is Keita Shimbo and Misaco Shimbo. Principal work includes the art direction and design for a renewal project for the Tokyo Metropolitan Teien Art Museum, Rei Naito: The Emotion of Belief Exhibition and the total design for the product development and creation of a concept space for SEN nihonshu. Holds solo exhibitions that inquire into technique and thoughts regarding visual expression. Involved in educational activities at university on an axis of typography.

Tezzo Suzuki
Graphic Designer. Born in Kanagawa in 1989. After graduating in design from the Art Department at Tokyo National University of Fine Arts and Music, worked as a graphic designer for the architecture and town planning firm Kengo Kuma & Associates. Completed the Type Media Master's course at Royal Academy of Art, The Hague in the Netherlands in 2015.

Yuri Suyama
Born in Tokyo in 1983. After leaving Yamaguchi Design Office, became a freelancer in 2006. Handles mainly book design, but also designs for arts, music, fashion and performing arts. Set up the alternative space nani in a studio in Tomigaya, Shibukawa.

Saki Soda
Born in Tochigi in 1986. Graduated from Kuwasawa Design School. Gained book design experience in a design company, and has been freelancing since 2010. Designs various Indies music jobs and book designs. In addition, is working with magazines and publications as an illustrator, but also with wrapping paper and textile designs for fashion brands, both in Japan and abroad.

Yohei Sometani
1981年生まれ。BALCOLONY.所属。オタクとデザインのほどよい関係をテーマに活動中。

Mariko Takagi
Born to a Japanese father and German mother; raised in Germany. Theme of her main work revolves around Japanese culture and type. A member of the Hong Kong Baptist University's Academy of Visual Arts (Hong Kong) from 2010 to 2016. Specialized in typography, book design and information design in university. Took up a new post at Doushisha Women's College of Liberal Arts, Department of Information and Media in April, 2017. Focused on conveying the interest found in cultural diversity so that various circumstances and culture may come and go freely. Has won many awards in international design contests.

Chie Tanaka
Born in Shibuya, Tokyo in 1974. Graduated from the Space Production Design Department at Musashino Art University. Started learning design under her uncle, Ikkou Tanaka while enrolled. After becoming independent, her window installation for the Tsumori Chisato Aoyama store drew a lot of attention. Had a child and started working on a wider range of things other than graphic design, including textiles, product design, promotional items, publications and book design and font design. Published her first literary work in 2017, Everyday with Paper (Kino Books).

Yuichiro Tanaka
Born in Okayama City in 1975. After graduating from the department of science and engineering at Ritsumeikan University, worked as a city-planning consultant before establishing Qua Design in 2004. Self-taught in design. Main work includes the visual design for Okayama University and Okayama Korakuen Bus. Publishes the freepaper Tanaka, created together with photographer Sonoko Tanaka. Nominee for the Tokyo TDC Award, nominated for JAGDA Awards. Collaborated on Logo Design Scene: Design techniques for branding, with examples to learn from (MdN Corporation).

Mina Tabei
'03年より有限会社服部一成に勤務。'14年に独立、田部井美奈デザインを設立。広告、CI、パッケージ、書籍、雑誌などの仕事を中心に活動。'09年よりアトリエ〈kvina〉に参加。主な仕事に、雑誌『GINZA』(マガジンハウス)、広報誌『NAOSHIMA NOTE』、小林エリカ『マダム・キュリーと朝食を』(集英社)、音楽イベント『Sound Live Tokyo』(PARC)など。

Hibiki Chikada
Born in Tokyo in 1977. Left the Visual Communication Department at Musashino Art University mid-term. Graduated from the Political Science Course in the Faculty of Law at Keio University. Worked as an editor for the Manga Department in Shogakukan Inc. from 2011. Became independent in 2007 and established fireworks.vc. Has been working as a designer of manga magazines and special publications since.

Yasuo Totsuka
Graphic design based around publications. Publishes nu, na nD and 10 Year Memo.

Toshinobu Nagata
Designer/Editor. Born in Tokyo in 1980. Studied under Shin'ichi Nakazawa at Chuo University, worked at Shumpusha Publishing and studied typography at Robundo. Worked as an assistant for Jun'ichi Kusaka before becoming independent in 2011. Main work includes Juji Maehashi's Leonardo da Vinci
and Mari Hashimoto's Unusual Helmets (both published by Shinchosha), Hitoshi Suzuki's Life and Views of book designer Hitoshi Suzuki, IDEA No.379, Book Designer Hitoshi Suzuki (All published by Seibundo Shinkosha), in addition to other work.

Kentaro Nakamura
Born in Fukui in 1990. Graduated from Kyoto University of Art and Design in 2013, and now works as a freelancer in Kyoto. Majored in typography in university. Main work includes the MOT Annual 2016: Kiseinoseiki (Museum of Contemporary Art Tokyo), the design of PR material for the exhibition Kawai Okamura: Mood Hall (Kyoto City University of Arts, Art Gallery @KCUA), and book design for Coffee Construction, and Concerning Books and their Surrounds: A Journey Just Over 6 Months Long (both published by Seikosha).

Nicole Schmid
Born in Osaka in 1978. Graduated from Kobe Design University. Studied Foundation Design at Schüle für Gestaltung in Basel (Switzerland). Has been working for Helmut Schmid Design since 2009. Supported the extended re-editions of Typography Today, nippon no nippon and Ruden Typography Ruder Philosophy.

Yuma Harada
1979年大阪生まれ。UMA/design farm代表。大阪を拠点に文化や福祉、地域に関わるプロジェクトを中心に、グラフィック、空間、展覧会や企画開発などを通して、理念を可視化し新しい体験をつくりだすことを目指している。「共に考え、共につくる」を大切に、対話と実験を繰り返すデザインを実践。グッドデザイン賞審査委員、京都造形芸術大学空間演出デザイン学科客員教授。愛犬の名前はワカメ。

Ayumi Higuchi
1981年東京都生まれ。2009年ヘリット・リートフェルト・アカデミー卒業。オランダ・アムステルダム在住。書籍や雑誌のデザインを中心に活動している。

Hiromi Fujita
1982年生まれ。東京都出身。雑誌、書籍、画集、写真集、図録などのデザインを中心に活動中。デザイン業と並行して、出版レーベル『FUJITA』を2015年に設立。2018年、小橋陽介画集『暗い手もとと明るい遠景』を発行予定。2017年より展示スペース『STUDIO STAFF ONLY』をYYY Pressと共に主宰。

Jujiro Maki
1985年岡山生まれ。フリーランス。近作にチェルフィッチュ「三月の5日間 リクリエーション」の告知物など。アイデアより「ニューカレンダー」発売中。良いデザインとは何か。いま分かるのは、必然性のあるデザイン。つくり方や見せ方など何かしらが"ハマっている"デザインのこと。表面的な装飾がデザイン(対象や中身と無関係でもオシャレならOK☆)と思われがちだが、それだけではないことをデザインで示せたらと思う。

Haruka Misawa
1982年群馬県生まれ。2005年武蔵野美術大学卒業。デザインオフィスnendoを経て、09年より日本デザインセンター原デザイン研究所に所属。14年7月より三澤デザイン研究室として活動開始。主な仕事に、KITTEや東京ビッグサイトのロゴマーク、上野動物園「UENO PLANET」プロジェクト、水中の環境を位置から探る試み「waterscape」などがある。

Isao Mitobe
Born in 1979. Graduated from Tama Art University in 2002. Began designing books while enrolled; continues this work today. Won the Judging Committee's Honorable Mention award at the Japan Book Design Awards. Won the Book Design Award at the 42nd Kodansha Publication Culture Awards.

Masashi Murakami
Born in Kanagawa in 1982. Graduated in design from the art department at Tokyo National University of Fine Arts and Music, and finished the master's course at the same university. After working at MR_DESIGN, jointly established ㎡ in 2012. Involved in CI and package design on a graphic axis, and also holding exhibitions of type themed work. Has won the Tokyo TDC Award, JAGDA Rookie of the Year award, ONESHOW, NYADC, and England's D&AD Awards.

Takahiro Yasuda
Born in 1985. Starsign: Leo. Birthplace: Nagoya. After graduating from graphic design department at Tama Art University, joined Draft Co. Became independent in 2015. Currently a member of CEKAI (Worldwide) doing not just art direction and graphic design, but holding exhibitions of work both in Japan and abroad, working on design and projects in the digital field, video directing and developing various creative activities with visual expression. 189.5cm tall.

Kazuhiro Yamada
Graphic designer. Graduated from Tama Art University in 2008. Established Nipponia in 2017 after working at Matsuda Office/Ushiwakamaru (spearheaded by Yukimasa Matsuda) and the font maker Monotype. Works mainly on publications, typefaces, lettering and graphic design.

Hideyuki Yamano
グラフィックデザイナー。1973年奈良県生まれ。1997年京都工芸繊維大学大学院修士課程修了。groovisions、NANAを経て、2002年独立。2009年TAKAIYAMA inc.設立。書籍、広告、ブランドデザイン、建築サインなど、平面から空間まで、グラフィックデザインを軸に幅広く手がける。またプライベートワークとして「クソバッジ」「B.C.G」「ALL FREE」などの活動も行う。

Kohji Robert Yamamoto
Born in 1979. Graduated from the Media and Governance postgraduate course at Keio University. Became a member of Euphrates in 2005, engaging in the research and development of new forms of expression and media design. Recent work includes video production for PythagoraSwitch and 2355•0655 on NHK E-Tele, and the planning and design for Sony Toio's official title Gezunroid.

Netsuke Yoneyama
1981年東京生まれ。2003年に東京藝術大学デザイン科卒業、グラフィック・エディトリアルデザイナーとして活動開始。CAP、PLUG-IN GRAPHICを経て2014年にYONEYAMA LLC.を設立。出版レーベルYYY PRESS主宰。『GATEWAY』を不定期で発行するほか、オルタナティブスペースSTUDIO STAFF ONLYも運営。