Special features: Visions of Video Games; [Part1] original design works by North, The Designers Republic, Quentaro "Nendo Ani" Fujimoto, Tsuyoshi Kusano(Level 1), Tuyoshi Hirooka(Level 1), Buro Destruct, Space-Invader; [Part2] Atari Coin-Op design ; [Part3] Bitmap Matrix on Paper Featuring "Edge"; special projects "A Game Company Logotype Identification Manual / Nagi Noda / Shinro Ohtake's Scrapbook Remix / Diverse Aspects of Visual Arts in France / Serials: Kyoichi Tsuzuki -When Pig Design vol.10 / Shinro Ohtake – special bound-in poster
Visions of Video Games
[Part1] original design works by North, The Designers Republic, Quentaro "Nendo Ani" Fujimoto, Tsuyoshi Kusano(Level 1), Tuyoshi Hirooka(Level 1), Buro Destruct, Space-Invader
Now, 30 years have passed since the video game appeared and media are flooded with the visual image which used the video game for. Many of those images are expression faithful to the fundamental character of video game of being built by the dot and it is different from the visuals in the new generation game machine in recent years which approach a real expression. The origin of thise images will go back to the machine and 8-bit machine of the game initial stage. The work of the designers who gathered here is manipulated in consciousness by making a video game image into a new visual language with the love for classic games.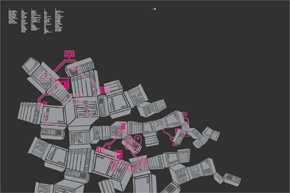 [Part2] Atari Coin-Op design
ATARI which had reigned as the top of the video game entertainment once did not neglect thorough consideration to the cabinet and the release flier, and investigated the aesthetics of ATARI. Here, there are about 40 release flier designs of ATARI and the text which introduced the history of ATARI.
[Part3] Bitmap Matrix on Paper Featuring "Edge"
The front line of media which took up the video game on paper, such as books and a magazine, is introduced. There are also an an interview of the Terry Stoke ,art director of game magazine of UK "EDGE".
special projects "A Game Company Logotype Identification Manual
Nagi Noda Original Artworks "Space Country"
Noda Nagi took charge of art direction of Laforet Harajuku, Nike Japan, and Hikaru Utada, and won many design prizes for the past several years. Here, her original work "space country" + advertising work is carried by total of 24 pages.
Shinro Ohtake's Scrapbook Remix
Idea special avan-garde printing project
Shinro Ohtake x Graph x IDEA
Remix + Printing Direction by Issay Kitagawa@GRAPH
Diverse Aspects of Visual Arts in France
Elizabeth Arkhiroff, 3 Points (Sylvia Tournerie), Laurent Fetis, Pierre la Police, Genecieve Gauckler, Fhilippe Apeloig
The work of the six young designers from France who is playing an active part broadly now is carried.
Serials: Kyoichi Tsuzuki -When Pig Design vol.10
Shinro Ohtake – special bound-in poster
Cover Design: North
North was started by Simon Browning and Sean Perkins in 1995. North have worked with a wide range of national and international clients in a wide range of media. As a design consultancy, North is a progressive contrast to large traditonal 'Brithish' corporate identity companies. North takes a dynamic modern approach applying 'relevant' self expression around original concepts and contexts.