Special feature1-1: Cyan 1992-2002 ; original design works remix [design + layout by Cyan], Notes on Cyan
Special feature1-2: Firm and Compound – the pivots of German graphic design: "Some aspects of typography & graphic design in Germany" text by Gunter Karl Bose, The pivots of German graphic design; Ott + Stein, Baumann & Baumann, Gunter Karl Bose [original design + layout by Gunter Karl Bose], "On education of design in Leipzig Academy" by Guner Karl Bose, Various aspects in contemporary German graphic design; Blotto, Dor and Umbra, Mutabor, Clan.Drei, Eboy, "Diggin' the Scene -Individuality and Networking-" by Jan Rikus Hillmann / Shift! / Emil Shult -Subjunctive Mood-
Special feature2: Composite Form ~the world of cover art in the Post-techno era; Intoroduction by Shusaku Hariya; MEGO, Staalplaat, Mille Plateaux, Raster-Noton, Sonig, Morr Music, Skipp, Touch, Others / Ars Electoronice Electrolobby by Tina Cassani and Bruno Beusch / Serials: Invisible language Vol. 1 by Paul Elliman / Serials: When Pigs Fly Vol. 14 by Kyoichi Tsuzuki / Bound-in series poster: Wall Vol.1, Photography by Yasuhide kuge, Art Direction + Design by Fumio Tachibana / News + Information / special supplement CD "IDEA Sampler 00" text by Koji Marutani
Cyan 1992-2002; original design works remix [design + layout by Cyan]
their recent design works remix over 32 pages.[design + layout by Cyan]
with Notes on Cyan and their manifest.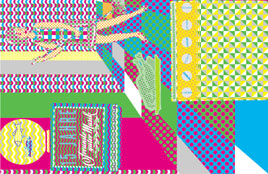 Firm and Compound – the pivots of German graphic design
"Some aspects of typography & graphic design in Germany" text by Guenter Karl Bose, The pivots of German graphic design; Ott + Stein, Baumann & Baumann, Guenter Karl Bose [original design + layout by Gunter Karl Bose], "On education of design in Leipzig Academy" by Guenter Karl Bose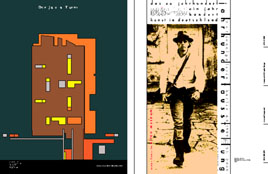 Various aspects in contemporary German graphic design
Blotto, Dor and Umbra, Mutabor, Clan.Drei, Eboy, "Diggin' the Scene -Individuality and Networking-" by Jan Rikus Hillmann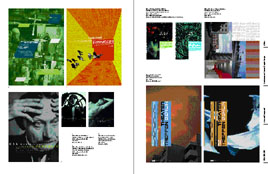 Shift!
We introduce an irregular published indipendent magazine "shift!" with the interview of the publisher and artdirector, Anja Lutz.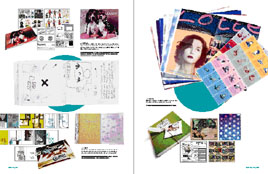 Emil Shult -Subjunctive Mood-
Emil Shult is a painter who drew the cover art of Kraftwerk. In this issue you can see his 70's and recent works.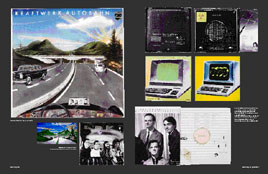 Composite Form – the world of cover art in the Post-techno era
artworks from the labels representing noise, acoustic noise or electronica : MEGO, Staalplaat, Mille Plateaux, Raster-Noton, Sonig, Morr Music, Skipp, Touch. over 72 page. with the comment by Shusaku Hariya from Salon Magazine.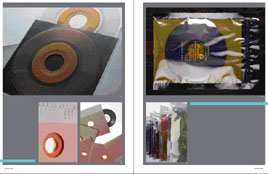 Bound-in series poster: Wall Vol.1, Photography by Yasuhide kuge
special supplement CD "IDEA Sampler 00"
comment by Koji Marutani
01… The User / track16 (from 'symphony #1 for dot matrix printers')
Staalplaat / (c) t.mcintosh, e.madan (socan 1999)
02… styrofoam / the sign that points one way (from 'the point_misser')
morr music / (c) 2000 morr music, styrofoam
03… Ryoji Ikeda & Carsten Nicolai / C2 (from 'cyclo')
raster noton / published by Touch, uk Music / (c) raster noton.germany
04… Pita / Iida Denki (from 'Get Down', Mego 049)
Mego / (c) 2002 Mego
05… Kozo Inada / a[1] (from 'a[]')
Staalplaat / (c) Kozo Inada
06… Merzbow / Sponge Octopus (from 'A Taste Of…', Mego 040)
Mego / (c) 2002 Mego
07… Noriko Tujiko / Tokyo (from 'Shojo Toshi', Mego 047)
Mego / (c) 2001 Mego
08… Vladislav Delay / Synkopoint (from V.A.'clicks & cuts')
Mille Plateaux / published by bmg, ufa
09… phonem / Euphrates (from 'ilisu')
morr music / (c) 2002 morr music, phonem
10… scratch pet land / savona airport (from 'sonig comp.', TKCB71886)
Sonig / (c) Tokuma Japan Communications, Sonig
11… dat politics / back le bleichert (from '1rst fist & stroop by skipp')
skipp / (c) 2001 DAT politics
12… mouse on mars / diskdusk (from 'niun niggung', TKCB71722)
Sonig / (c) Tokuma Japan Communications
13… snd /12 (from 'tender love')
Mille Plateaux / published by bmg, edition force inc
14… solvent / not for sale (from 'solvent city')
morr music / (c) 2001 morr music, solvent
Cover Design: CYAN
Cyan was founded in 1992 by Daniela Haufe and Detlef Fiedler. The studio's projects include books, magazines, film and multimedia works for clients in the cultural project for the Berlin State Opera, Radio Free Berlin, Bauhaus Dessau Foundation, etc. Cyan's posters are in many poster collections such as MoMA New York, Poster Museum at Niederrhein Emmerich, Museum for Art and Design Hamburg.