Special feature1: Stanley Donwood "Vacances"; original design works + poems and interview
Special feature2: DD-DDD / Dimensions and Transitions; Graphic Spaces by Zaha M. Hadid, Fashion For All by Hiroaki Ohya, OHYA poster, Charged Clues by Steven Gontarski, Perceptual reiterations by Christian Biecher, Graphic in the Work of SANAA by Kazuyo Sejima + Ryue Nishizawa, Beyond Visuals interview with Toshio Iwai, Augmented Reality by Ivan Poupyrev, The Art of Len Lye – "2, 2.5, 3, 3.5D", O.I. Project X, special supplement: AR Trial Took Kit / Serials: Invisible language Vol. 2 by Paul Elliman / Serials: When Pigs Fly Vol. 15 by Kyoichi Tsuzuki / Bound-in series poster: Wall Vol.2, Photography by Yasuhide kuge, Art Direction + Design by Fumio Tachibana / News + Information
Special feature1: Stanley Donwood "Vacances"
Stanley Donwood is a designer from England whose name is well known for the art works for Radioheads. In this issue we introduce his original design works + poems and interview over 52 pages.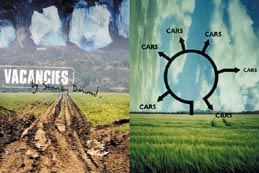 Special feature2: DD-DDD / Dimensions and Transitions
Artists: Zaha M. Hadid, Hiroaki Ohya, Steven Gontarski, Christian Biecher, Kazuyo Sejima + Ryue Nishizawa, Toshio Iwai, Ivan Poupyrev, Len Lye, O.I.
Cover Design: Stanley Donwood
Born in Essex, England. He is a designer, artist and writer. His story with his drawing, photo, sentence,and various way of expression has an interesting uniqueness. He is also famous for his art work of Radiohead, which he stared from 'my iron lung', 1994. He auhored 'slowly downward', 'Catacombs of Terror!', and many others.