GTF Three Dimensional Project / SCAT: Emi Suzuki / heiQuiti HARATA Special Poster "DAF" remix Side A&B / GRAPH Works for Fukukura / The Complete Writings of Yokoo Tadanori / "Spring, Summer, Fall, Winter" by Masayoshi Nakajo / Report: The 3rd International Design History Forum "Images & Letters" / Invisible language Vol. 7 by Paul Elliman / When Pigs Design Vol.20 by Kyoichi Tsuzuki / Shinro Ohtake Original Serial Poster vol.1 Side-A "UTASHINAI" / Side-B "BETSUKAI" / News + InformationSpecial Supplement 1 : Tengocu, pixelzone OverdriveSpecial Supplement 2 : Tengocu, pixelzone Driving ReportCover artwork by heiQuiti HARATA
GTF Three Dimensional Project
GTF(Graphic Thought Facility) is a design group in London. By using various materials such as EL lighting, concrete and alminium, now they frequently work on exhibition space design and 3 dimentional product design. They attempts to open new way to possibilities and dynamics of graphic design by fleeing from the spell of graphic design that is implicitly assosiated with 2 dimentionality.http://www.graphicthoughtfacility.com/http://www.mebox.co.uk/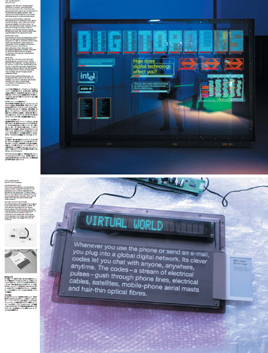 HeiQuiti Harata : Tengocu, pixelzone Overdrive
In a IDEA298's separate volume "Tengocu Overdrive", Heiquiti Harata's quite recent exhibition "Tengocu(pixelzone) Drive" is reconstructed. He try to digital design in which the possibility spreads by leaps and bounds increasingly and this book is his newest results.Moreover in the 2nd separate volume, the round-table talk with Heiquiti Harata, Fumio Tachibana, Ariko and Manab Koseki (ex-IDEA chief) is recorded and selected.Furthermore for the cover and the supplement poster, Harata designed new remixed images from DAF Poster which he made in 1970.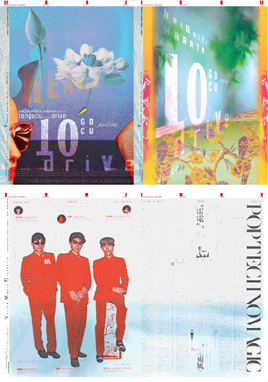 SCAT: Emi Suzuki
The handwritten penciled line. A blot of a color. Marks of the character which is transparent and visible to the bottom where white paints were applied. etc… The details of works are reproduced carefully on the magazine paper.23 pages + mini poster.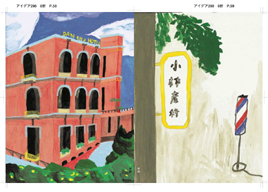 GRAPH Works for Fukukura
Motto of GRAPH is 'DESIGN x PRINTING'. GRAPH has uniquely combined the creative work of a design office and a printing business. One of the famous works by GRAPH is designing graphic images for Fukunishiki, a sake brewery. The compamy's trademark is a styled Japanese hiragana character that represents the company's name. The trademark and bottle labels were designed referring to Fukunishiki's tradition and locality. As a result, the design appear natural and friendly as though they existed from a long time ago.In this issue, 80 different types of chopstick sleeves for Fukukura, Fukunishiki's restaurant, are reproduced by using the same printing techniques and papers as the actual ones.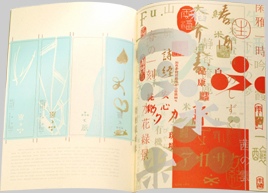 The Complete Writings of Yokoo Tadanori
It is introduction in all of 97 books which Tadanori Yokoo has continued taking out through his career over 40 years. His books theme and form are so various and the changes of his creative activity are able to survey through seeing them chronologically.
"Spring, Summer, Fall, Winter" by Masayoshi Nakajo
Commemorating achievement of graphic designer Yusaku Kamekura, the Yusaku Kamekura Award was established in 1999 with the purpose for the develpment of graphic design scene. The winning work of the 5th Award is "Nakajo no Fuji no Yamai (Nakajo's Fuji-Sickness)" by Masayoshi Nakajo. The exhibition "Zoku: Nakajo no Fuji no Yamai (Sequel to Nakajo's Fuji-Sickness)." presents a series of new posters entitled "Spring, Summer, Fall, Winter" made for the Award exhibition.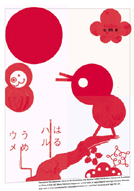 Shinro Ohtake Original Serial Poster <2nd Impact> vol.1
Shinro Ohtake is back to IDEA. For this special issue, he made two new posters. The front side work, "UTASHINAI" is full of the heart of travelers like enka. and back side work, "BETSUKAI" is very minimalistic landscape with vivid color.
Cover Design: Heiquiti Harata
Born in 1947. Graduated from Tokyo National University of Fine Arts and Music with a major in Visual Design. In the early 70s, worked on the magazine 'Shinjuku Play Map', which led to a large body of work in editorial design, from which he gaind a strong following among young readers. Since 1995, He has been operating new horizons through DTP on a Macintosh. Established WXY in 1979 and EDiX in 1989.