Special Feature: Uchu Misaki [Cosmic Cape] Blues by Shinro Ohtake, Edit and Layout by ED35 / Hiroshi Kan: Latest Works 2001-2003 / GRAPH × GRAPH, Design and Print by GRAPH / Deciphering Design – A State of English Design, featured designers: Miles Murray Sorrel FUEL, Rebecca and Mike / tycho's nova IDEA mix by Graham Wood / Shinro Ohtake Original Serial Poster vol.2 "Uchu Misaki [Cosmic Cape]" / When Pigs Design Vol.21 by Kyoichi Tsuzuki / Invisible language Vol. 8 by Paul Elliman / "BOB DYLAN 2003" idea remix ver.2.0 by heiQuiti HARATA / News + InformationSpecial Supplement: seal-engraving works "a pillow and a light stand" by KasetsuCover artwork by Shinro Ohtake
Special Feature: Uchu Misaki [Cosmic Cape] Blues by Shinro Ohtake
selected from all of Shinro Ohtakes works such as sketches, pictures, installation works or music works which he has continued making from boyhood, we introduce his various works related music.Include: Paintings or Sketches which are painted some musicians such as Mina Aoe, Bob Dylan, Jimi Hendrix, Mark Bolan, John Lennon, DIVO, Kraftwerk,etc. Pictures of Dub-Hei, a guitar automatic performance equipment. Art works for 19/JUKE and Puzzle Punks, Ohtake's own bands. His favorate record jackets. and so on.Edit and Layout by EDIT35 + Shinro Ohtake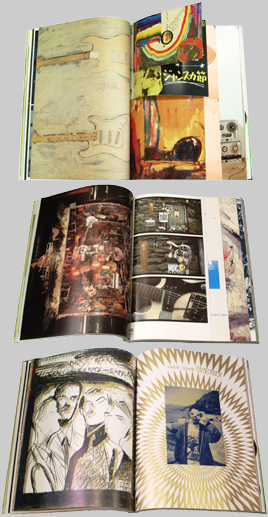 Hiroshi Kan: Latest Works 2001-2003
Hiroshi Kan is an artist known as the works painted some buildings and landscapes by original composition and mixed style with abstract and representational one. We introduce his latest works reproducing the original color and lines of brushwork. over 24 pages.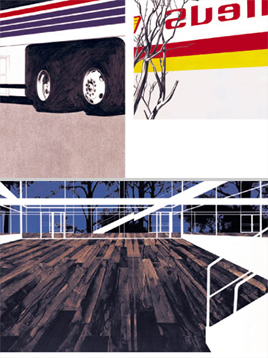 Deciphering Design – A State of English Design
English design team Miles Murray Sorrell FUEL is known at home and abroad for its radical designs. Most Miles Murray Sorrell FUEL projects combine photography with short texts, and contain a sharp critique of consumer society along with the firm's characteristic sense of humor and vision for the future. And Rebecca and Mike take an approach to design that defies definition in existing categories like product and graphic design, and reveals new angles of the essential nature of the phenomena that lie before our eyes. The two partnerships may approach design from different angles, but both express their philosophy of communication and thoughts on design through their work. Because these qualities can be assessed objectively, they challenge the existing, tacit understandings of "aesthetics" that, never verbalized, have grown up around graphic design. 23 pages.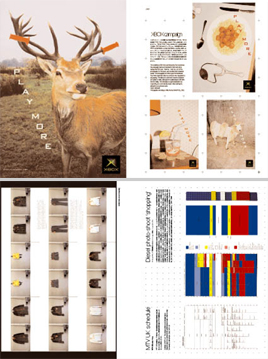 tycho's nova IDEA mix by Graham Wood
Graham Wood, a member of tomato, remixed his paperback work "tycho's nova"(2001) for IDEA. 3 different typefaces made a story laid in Scandinavia on the lyrical black and white photos. 16 pages.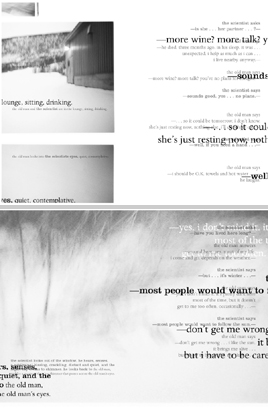 GRAPH X GRAPH
Motto of GRAPH is 'DESIGN x PRINTING'. GRAPH has uniquely combined the creative work of a design office and a printing business. In this issue, we publish their newest works made with their own original printing techniques and sense.design and printed by GRAPH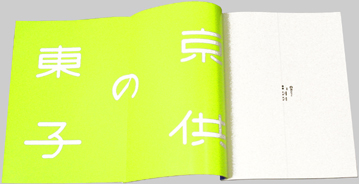 Special Supplement: seal-engraving works "a pillow and a light stand" by Kasetsu
Seal-engraving works by a calligrapher living in Kyoto, Kasetsu, are recorded on small booklet as a separate volume. Prosaic texts which show her thought for engraved words are attached to all of 14 delicate seal-engraving works rise from the surface of hard stones respectively.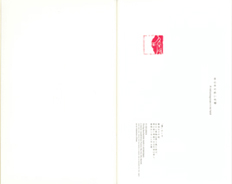 Shinro Ohtake Original Serial Poster <2nd Impact> vol.2 "Uchu Misaki [Cosmic Cape]"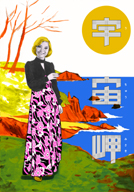 "BOB DYLAN 2003" idea remix ver.2.0 by heiQuiti HARATA
Cover Design: Shinro Ohtake
Born in 1955 in Tokyo. Devoted himself to painting from his childhood. Visited to UK in 1977. Graduated from the Musashino Art University, Tokyo in 1980. He held his first one-man exhibition in 1982 and then his works were attracted at home and abroad. Until today his works include drawing, sculpture, printed matter, music, performance etc. He lives in Uwajima, Ehime. One of the representative artist in Japan.