Special Feature: Design of Kenya Hara"Invention of White" HAPTIC Exhibition / Matsuya Ginza Renewal project / Signage for Umeda Hospital / Signage for Katta Hospital / Nagano Winter Olympic Games Program / Book Design / Takeo VI Communication Tools"On White" by Kenya Hara"Encounters with Everyday Lives" EXPO 2005 AICHI Promotion / Works across Japan / Final entry draft for the Beijing Olympics symbol mark / RE-DESIGN Exhibition / MUJI"Encounters with Japan" by Kenya HaraA Long Interview with Kenya HaraDesigners who influenced Kenya HaraComments on Kenya Hara from 8 standpointsShinichi Nakazawa / Ross Lovegrove / Kazuko Koike / Naoto Fukasawa / Makoto Saito / Shutaro Mukai / Munenori Harada / Kenmei NagaokaInvisible Language Vol.13 by Paul Elliman "Plenty of Furniture" / +2p no.02 Yukari Miyazawa / When Pigs Design Vol.28 by Kyoichi Tsuzuki "Beyond Sashimi: A report on the legendary Izakaya bar" / Typography Review vol. 6 "Concern about future typefaces without roots" Supervision and Text by Jiro Katashio, Design by Yoshihisa Shirai / News + Information / Shinro Ohtake Original Serial Poster Part 9 "NEW FROM SWEDEN"Cover design by Kenya Hara
Special Feature: Design of Kenya Hara
Design works and projects by Kenya Hara 1998 – 2004. 120 pages.
"Invention of White" – HAPTIC Exhibition – Matsuya Ginza Renewal project – Signage for Umeda Hospital – Signage for Katta Hospital – Nagano Winter Olympic Games Program – Book Design – Takeo VI Communication Tools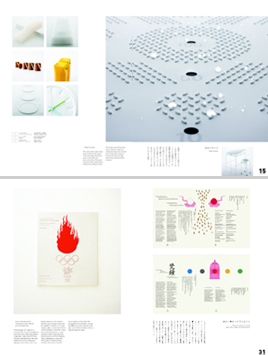 "Encounters with Everyday Lives" – EXPO 2005 AICHI Promotion – Works across Japan – Final entry draft for the Beijing Olympics symbol mark – RE-DESIGN Exhibition – MUJI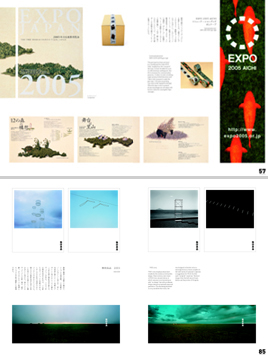 When Pigs Design Vol.28 by Kyoichi Tsuzuki
"Beyond Sashimi: A report on the legendary Izakaya bar"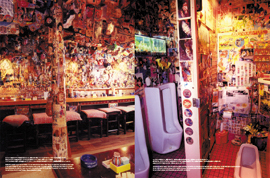 Shinro Ohtake Original Serial Poster <2nd Impact> Part 9 "NEW FROM SWEDEN"