Special Feature: The Conditions of Graphic Design 2×4, 3 Deep Design, A Practice for Everyday Life, Åbäke & Daniel Eatock, Adrian Shaughnessy, Alon Levin, &&&, Andrew Blauvelt, Angela Lorenz, Anna Gerber, Anne Burdick, Base, Bibliothèque, Bluesource, Brighten the Corners, Browns, Build, Cartlidge Levene, Catalogtree, Christos Lialios, COMA, Cornel Windlin, Coup, Cyan, Default, Design Machine, The Designers Republic, Dmitri Siegel, Elektrosmog, EricandMarie, Event10, Experimental Jetset, Fabio Ongarato, Fons Hickmann, Fraser Muggeridge, Fuel, Giampietro+Smith, Goodwill, Graphic Thought Facility, Hanna Werning, Hyperkit, Ingo Offermanns, Jonathan Barnbrook, Jop van Bennekom, Julia Born, Julie Joliat, Juliette Cezzar, Kasia Korczak, Kerr|Noble, Laurent Fétis, Leonardo Sonnoli, Lust, M/M Paris, MadeThought, Manuel Raeder, Manuela Porceddu & Derk Reneman, Marc Atlan, Maureen Mooren & Daniël van der Velden, Mevis en Van Deursen, Morality of Objects, Muriel Paris et Alex Singer, Nick Bell, Non-Format, Norm, North, Onlab, O-R-G, Paul Elliman, Paul Sahre, Peter Bilak, Philippe Apeloig, Practise, Project Projects, RBG 6, Ruedi Baur, Rumbero Design, Sara de Bondt, Spin, Ständige Vertretung, Stefan Sagmeister, Stiletto, Struktur Design, Stuart Bailey, Will Stuart, Studio FM milano, Studio Thomson, Suburbia, Sulki & Min Choi, Surface, Tania Prill & Alberto Vieceli, Thomas Buxó, Toffe, Toko, Tom Hingston, Tomato, Universal Everything, Vier5, Why Not Associates, WinterhouseDesigners' Workshop / Designers' Profile / A DEBATE Anna Gerber and Anja Lutz / News + Information / Shinro Ohtake Original Serial Poster [2nd impact] Part 18 Side A(inside): Zen-Kei II Side B:(outside): Zen-Kei III
Special feature: The Conditions of Graphic Design
How is graphic design possible? Asked so many times in the past, this question has often functioned as life prolongation device that drove the infinite cycle of deconstruction and reconstruction of graphic design itself. But we would like to first accept the fact that it is not easy to understand the graphic design in the post-historical world, and that it is not possible to describe and tell about the official history of graphic design after the Modern Era. Here, in this special feature article, we would like to cut the continuity of such movement of graphic design so that we could record and mark in details the present moment of graphic design. Works and texts of different designers with different contexts are juxtaposed in every spread so that they are violently dissimilated beyond the context of each. We hope the readers will be able to form the image of today's graphic design that may appear like a constellation in the night sky.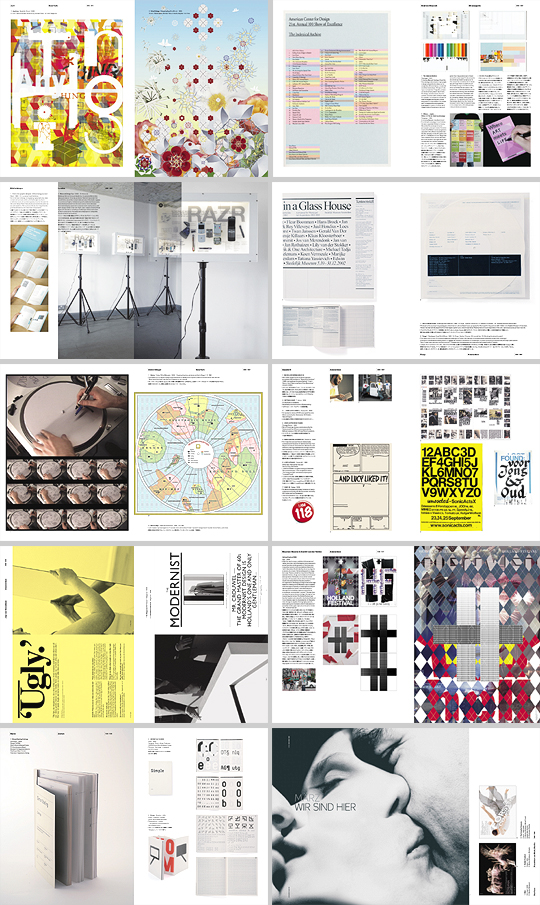 Contributing Designers' Sites
2×4 http://www.2×4.org
3 Deep Design http://www.3deep.com.au
A Practice for Everyday Life http://www.apracticeforeverydaylife.com
Åbäke http://www.kitsune.fr
Daniel Eatock http://www.eatock.com
Adrian Shaughnessy http://www.thisisrealart.com
&&& http://www.andandand.co.uk
Andrew Blauvelt http://design.walkerart.org
Angela Lorenz http://www.alorenz.net
Anne Burdick http://www.burdickoffices.com
Base http://www.basedesign.com
Bibliothèque http://www.bibliothequedesign.com
Bluesource http://www.bluesource.com
Brighten the Corners http://www.brightenthecorners.com
Browns http://www.brownsdesign.com
Build http://www.designbybuild.com
Cartlidge Levene http://www.cartlidgelevene.co.uk
Catalogtree http://www.catalogtree.net
Christos Lialios http://www.christoslialios.nl
COMA http://www.comalive.com
Cornel Windlin http://www.lineto.com
Coup http://www.coup.nl
Cyan http://www.cyan.de
Default http://www.bydefault.org
Design Machine http://www.designmachine.net
The Designers Republic http://www.thedesignersrepublic.com
Dmitri Siegel http://www.antemagazine.com/dmitri/
Elektrosmog http://www.esmog.org
EricandMarie http://www.ericandmarie.com
Event10 http://www.event10.com
Experimental Jetset http://www.experimentaljetset.nl
Fabio Ongarato http://www.fodesign.com.au
Fons Hickmann http://www.fonshickmann.com
Fraser Muggeridge http://www.pleasedonotbend.co.uk
Fuel http://www.fuel-design.com
Giampietro+Smith http://www.studio-gs.com
Graphic Thought Facility http://www.graphicthoughtfacility.com
Hanna Werning http://www.byhanna.com
Hyperkit http://www.hyperkit.co.uk
Ingo Offermanns http://www.i-offermanns.com
Jonathan Barnbrook http://www.barnbrook.net
http://www.virusfonts.com
Jop van Bennekom http://www.re-magazine.com
http://www.fantasticmanmagazine.com
http://www.buttmagazine.com
Julie Joliat http://www.joliat.net
Juliette Cezzar http://www.juliettecezzar.com
Kasia Korczak http://www.theslavs.com
Kerr|Noble http://www.kerrnoble.com/
Laurent Fétis http://www.laurentfetis.com
Lust http://www.lust.nl
M/M Paris http://www.mmparis.com
MadeThought http://www.madethought.com
Manuel Raeder http://www.manuelraeder.co.uk
Manuela Porceddu & Derk Reneman http://www.anti-anti.net/blog
Marc Atlan http://www.marcatlan.com
Morality of Objects http://www.moralityofobjects.com
Muriel Paris et Alex Singer http://www.parisetsinger.com
Nick Bell http://www.nickbelldesign.co.uk
Non-Format http://www.non-format.com
Norm http://www.norm.to
North http://www.northdesign.co.uk
Onlab http://www.onlab.ch
http://www.etc-publications.com
http://www.nicolasbourquin.net
O-R-G http://www.o-r-g.com
Paul Elliman http://www.otherschools.com
Paul Sahre http://www.spreadintheluv.com
Peter Bilak http://www.typotheque.com
http://www.peterbilak.com
Philippe Apeloig http://www.apeloig.com
Practise http://www.practise.co.uk
Project Projects http://www.projectprojects.com
RBG 6 http://www.rbg6.se
Ruedi Baur http://www.integral.ruedi-baur.com
Rumbero Design http://www.rumbero-design.com
Sara de Bondt http://www.saradebondt.com
Spin http://www.spin.co.uk
Ständige Vertretung http://www.svberlin.com
Stefan Sagmeister http://www.sagmeister.com
Stiletto http://www.stilettonyc.com
Struktur Design http://www.struktur-design.com
Studio FM milano http://www.studiofmmilano.it
Studio Thomson http://www.studiothomson.com
Suburbia http://www.suburbia-media.com
Sulki & Min Choi http://www.sulki-min.com
Surface http://www.surface.de
Tania Prill & Alberto Vieceli http://www.prill-vieceli.cc
Thomas Buxó http://buxo.nl
Toffe http://www.toffe.net
Toko http://www.toko.nu
Tom Hingston http://www.hingston.net
Tomato http://www.tomato.co.uk
Universal Everything http://www.universaleverything.com
Vier5 http://www.vier5.de
Why Not Associates http://www.whynotassociates.com
Winterhouse http://www.winterhouse.com
http://www.designobserver.com