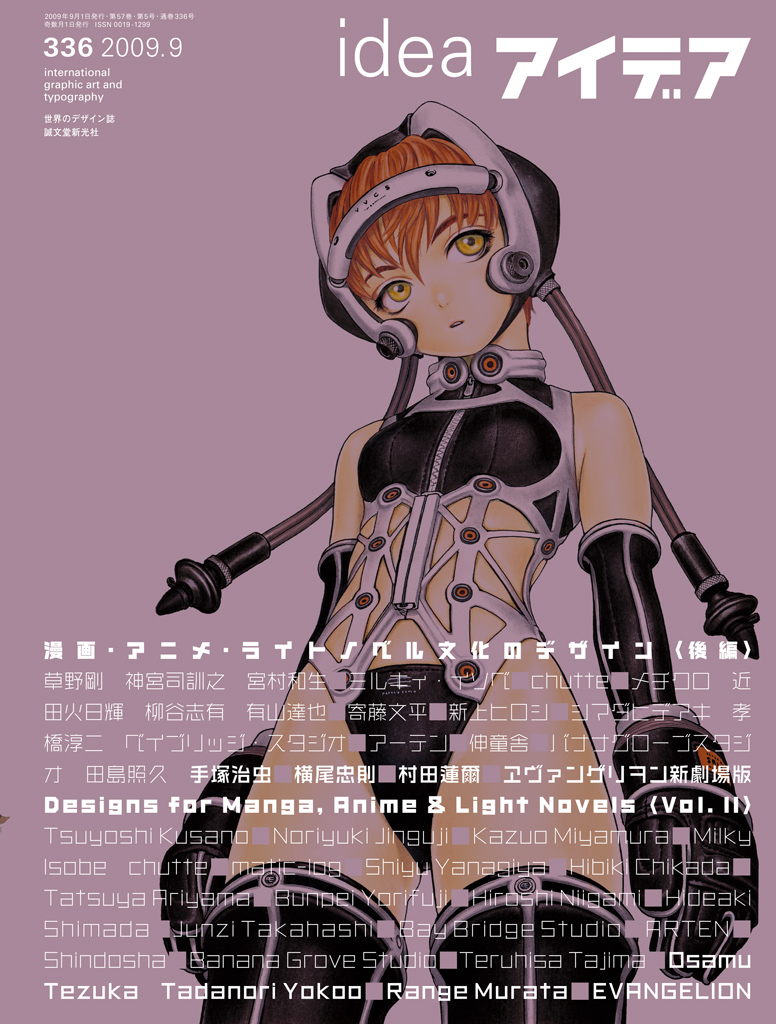 IDEA No.336
Published: 2009/9
Price: 定価3,111円/2,829+tax jp yen
soldout
「order」のリンクより(株)誠文堂新光社サイトのオンラインショッピングをご利用いただけます。送料やお支払いについての詳しい情報は、同サイトの案内に従ってください。
Special Feature: Designs for Manga, Anime & Light Novels (Vol.2)
The sequel to Idea issue No.334.
Graphic designs for Otaku culture have become more highly developed over the past decade, evolving from mere images of printed characters to more integrated graphic packages full of detail and rich interpretations of the titles.
In this special issue, Idea explores the world of design for Otaku culture, which are not confined to the rules of Western design with their composite gestalts.
Tadanori Yokoo Manga Designs
Altanative Designs for Manga Magazines
Range Murata Design Works
Rebuild of Evangelion Graphics


Designers File
Tsuyoshi Kusano, Noriyuki Jinguji, Kazuo Miyamura, Milky Isobe, chutte, matic-log, Hibiki Chikada, Shiyu Yanagiya, Tatsuya Ariyama, Bunpei Yorifuji, Hiroshi Niigami, Hideaki Shimada, Junji Takahashi, Bay Bridge Studio, ARTEN, Shindosha, Banana Grove Studio, Teruhisa Tajima










Osamu Tezuka Title Letterings
For a coming research on Manga Typography
SPEEDFREAK DESIGN!! –NERDCORE/J-CORE/GABBA/TECHNO-
[Special Talks]
Akira Saito x Shinichi Konnno
Manabu Koga x Quentaro Fujimoto
Mitomo Kanose x Youhei Sometani x Berbora
Ideas of VISUAL DESIGN LABORATORY INC. –For the contemporary Japanese Display Types
MeMe Design Journal Vol.6
Shin Sobue and Ryo Tanaka, "Letters and Images"
Design by MeMe Design School + Nakagaki Design Studio
The Shape of Things to Come Vol.5
Text by Takashi Serizawa, Design by Tokyo Pistol, Photo by Toshie Kusamoto
Fumio Tachibana x NIKE SPORTSWEAR
Bunrei-kana, Soukyu-kana — New Directions of Japanese Typefaces at the completion of DTP/