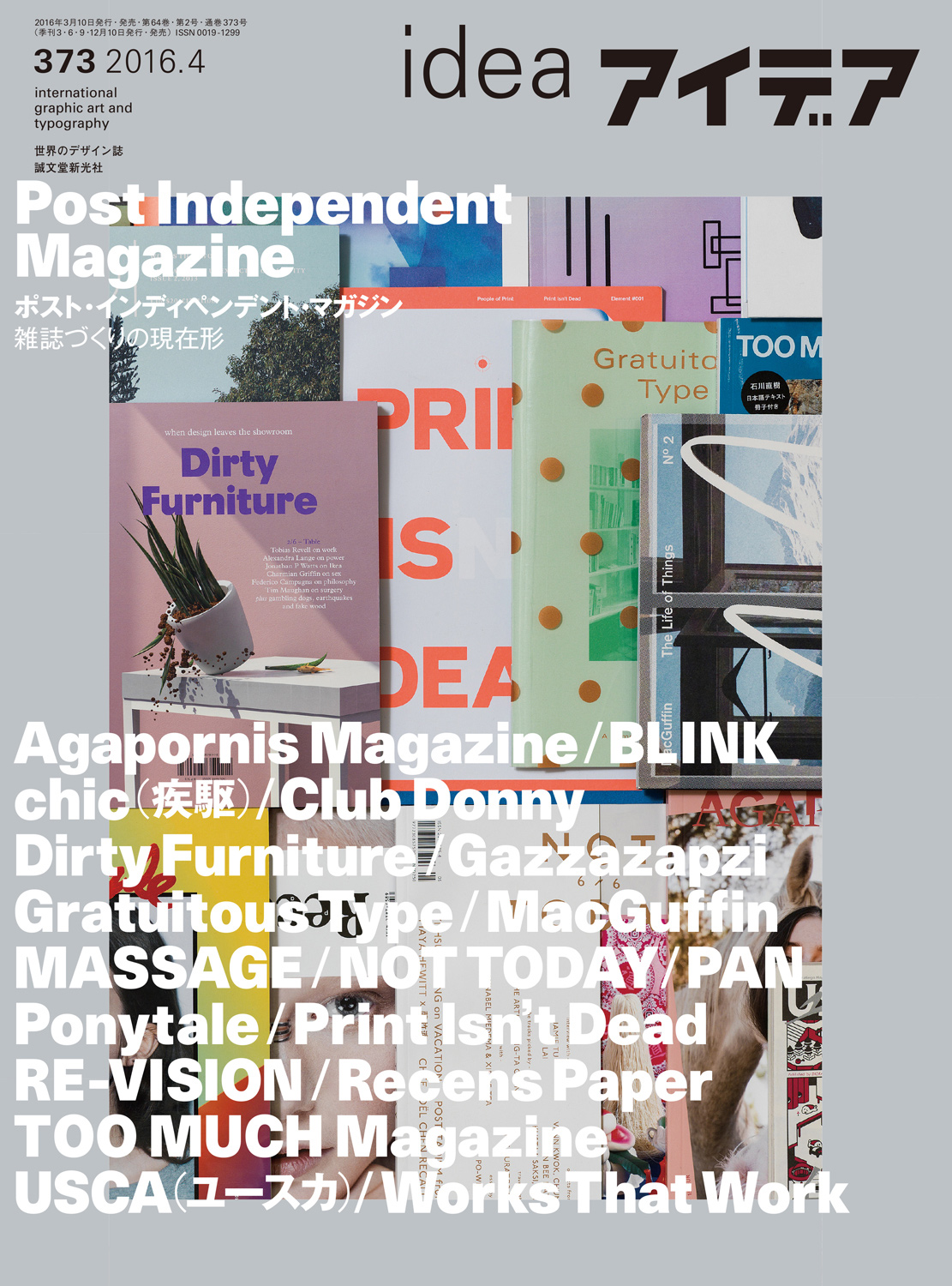 IDEA No.373
Published: 2016/04
Price: 定価3,111円/2,829+tax jp yen
「order」のリンクより(株)誠文堂新光社サイトのオンラインショッピングをご利用いただけます。送料やお支払いについての詳しい情報は、同サイトの案内に従ってください。
Direction: IDEA Editorial Dept.
Design: Toshimasa Kimura
Today, it is as easy to upload images to websites in order to produce a zine as it is to
create a custom tee shirt or a customized mobile device case. These magazines are not based
on just-in-time production solutions. They are different — they raise the printing costs, curate
the editorial content, and each has an individual approach to design, as well as a singular
cultural perspective. This comprehensive approach to production — this folding-in of creative
labor — is in itself a special claim.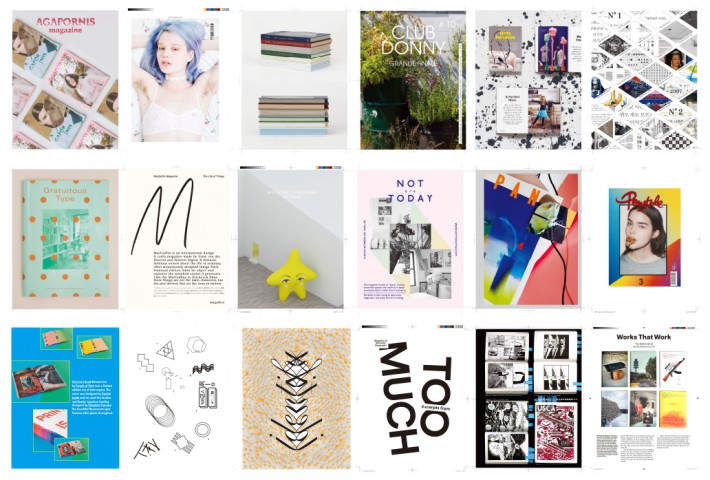 01 Agapornis Magazine
http://www.agapornismag.com/
02 BLINK
http://www.blinkreflex.com/
03 chic
http://chic-magazine.jp/
04 Club Donny
http://www.clubdonny.com/
05 Dirty Furniture
http://dirty-furniture.com/
06 Gazzazapzi
http://www.gazzazapzi.com/
07 Gratuitous Type
http://gratuitoustype.com/
08 MacGuffin
http://www.macguffin.nl/
09 MASSAGE
http://themassage.jp/
10 NOT TODAY
http://www.nottodaymag.com/
11 PAN
http://pan-mag.tumblr.com/
12 Ponytale
http://www.ponytale-stories.com/
13 Print Isn't Dead
http://www.printisntdeadmag.co/
14 RE-VISION
http://www.re-visionmagazine.com/
15 Recens Paper
http://recenspaper.com/
16 TOO MUCH Magazine
http://www.toomuchmagazine.com/
17 USCA
https://twitter.com/dioramabooks
18 Works That Work
https://worksthatwork.com/
Interview: Charlotte Cheetham, Shannon Michael Cane
Text: Independent magazines I've seen over time (Futoshi Miyagi)
Text: Japanese Translations in booklets
---
Barbora × Momo Nonaka: All we know about Japanese Zines
Vol.6: The 1960s and 1970s Part Two: Social Movement and Counter Culture
Design: Kisa Miyazaki
Photo: Ryota Yukitake
Cooperation: Research Center for Cooperative Civil Societies, Rikkyo University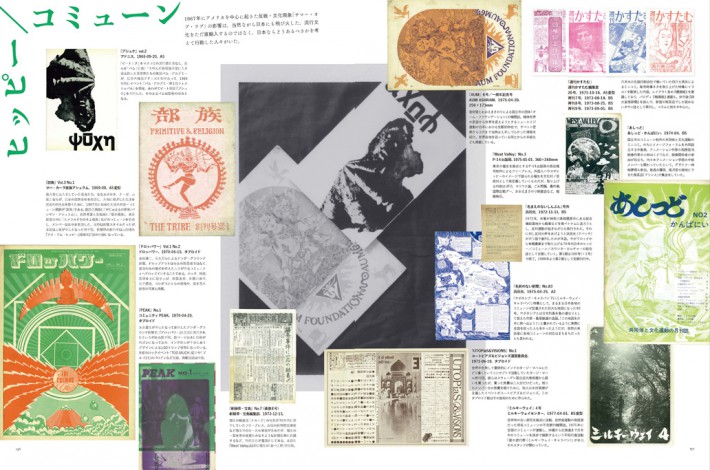 ---
Yellow Pages Review
Text: Tetsuya Goto
Design: Sulki & Min
Translation Support: Duncan Brotherton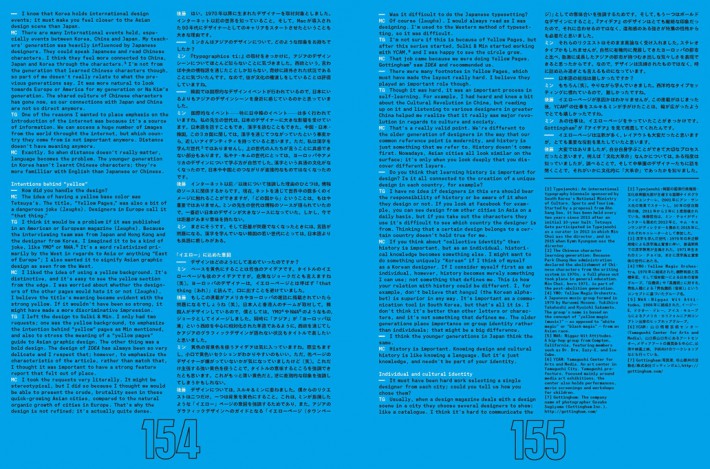 ---
Typojanchi 2015: Report
Text: Tetsuya Goto
Design: Lee Jaemin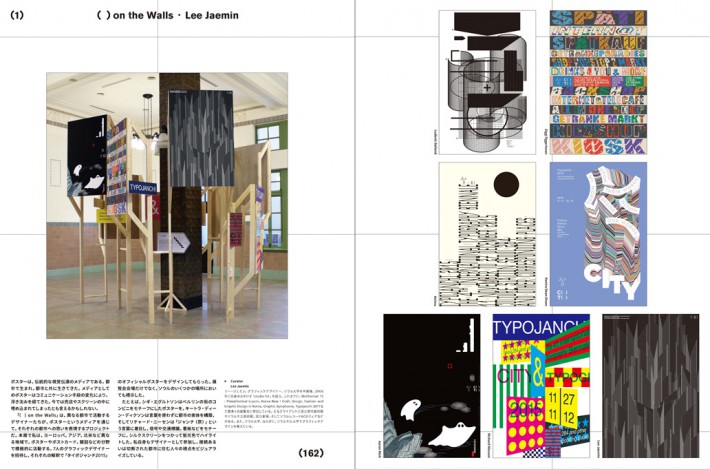 ---
Exhibition of Masakazu Kitayama "TYPOGRAFFITI 1 – INVISIBLE – KITAYAMA masakazu"
Text: Barbora
Design: Daijiro Ohara
Photo: Lee Basford, Takei Goodman, KTYM
Cooperation: Keigo Oyamada, Takeaki Emori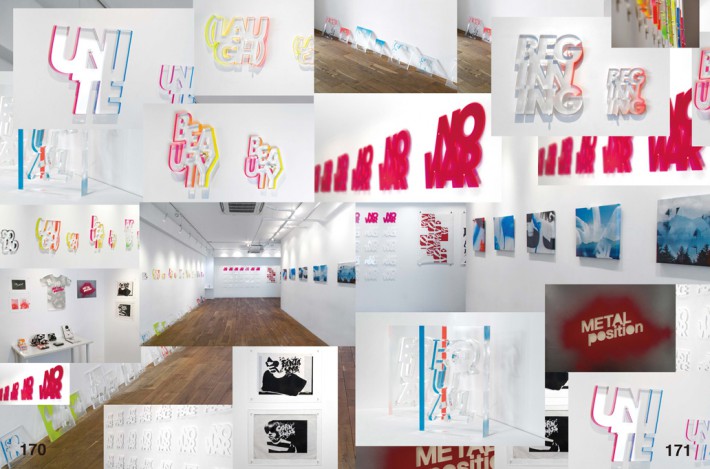 ---
Morisawa Moji Bunka Forum Vol.16: Moji to Design 6
Exhibition Review" nippon no nippon: helmut schmid"
New Type
Information & Book
the idea of music [018]