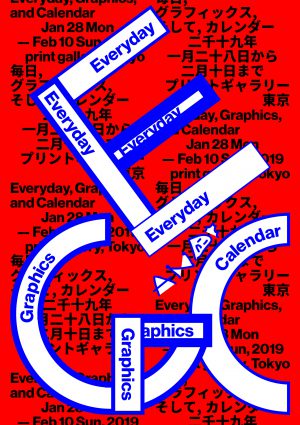 ORDINARY PEOPLE: Everyday, Graphics, and Calendar
Print Gallery Tokyo is hosting an exhibition "ORDINARY PEOPLE: Everyday, Graphics, and Calendar" by Design Studio ORDINARY PEOPLE (Seoul, Korea).
This design Studio consists of ex-university classmates. In 2006, these graphic design students started a project called "We make posters". During the course of this project, they formed their design studio. Currently, they initiate and manage projects such as "Everyday Graphic Calendar", "1xn—Print Screen", and "24 OPEN". They also work on commercial projects with MBC (Munhwa Broadcasting Corporation), National Museum of Modern and Contemporary Art Korea, Asia Culture Center, SM Entertainment, and many others.
The exhibition at Print Gallery will focus on the "Everyday Graphic Calendar"; a page-a-day calendar ORDINARY PEOPLE has published since 2015. Designers of the studio collaboratively created these calendars that features various themes and expressions, day-by-day or page-by-page. This show will also display other projects and products from their self-initiated project "Peopolét brand, booklets, zines, and fashion items such as T-shirts. Many items from this exhibition will be for sale.
On Saturday, February 2nd, there will be a panel discussion by young designers from Japan and Korea, titled "Glimpsing the Everyday Life of Designers in Japanese and Korean Calendars: Day-to-Day Graphic Design". Designers from ORDINARY PEOPLE will represent Korea, and Jujiro Maki and Tézzo Suzuki will be the designers from Japan (Moderator: Madoka Nishi /Idea magazine).
WEB-site: https://www.printgallerytokyo.com/ex-ordinary-people.html
Jujiro Maki
https://twitter.com/makiju
Tézzo Suzuki
http://tezzosuzuki.com/
——————————————————————
[Exhibition venue]
print gallery Tokyo
1-8-6 1F Shirokane, Minatoku
108-0072 Tokyo/Japan
[Contact]
official@printgallerytokyo.com
[Exhibition schedule and gallery hours]
From January 28 Saturday to February 10 Sunday 2019
Gallery will be open:
15:00-20:00 on Monday & Friday.
13:30-20:00 on Saturday & Sunday.
Closed on Tuesday, Thursday & Wednesday.
——————————————————————
Event Schedule
February 2 Saturday
15:00–17:00 (doors open: 14:40~)
[Event Venue]
Fork Studio
3-1-2,2F Shirokane, Minatoku Tokyo
(2 min. walk from print gallery)
[Event Panelist]
ORDINARY PEOPLE
Jujiro Maki
Tézzo Suzuki
(Moderator: Madoka Nishi /Idea magazine)
[Capacity]
50 people
[Fee]
1200 yen
[Reservation]
Apply here.
https://goo.gl/forms/fDdHVRrh7XQBD6Sv1
[Contact]
IDEA magazine
info@idea-mag.com
——————————————————————
[Exhibition organized by]
print gallery Tokyo
Idea magazine
ORDINARY PEOPLE
Poster design:
ORDINARY PEOPLE
DM/flyer design:
print gallery Tokyo + Toru Kase