Alternative Reality
Design and imagination in dangerous times: where fantasy and reality intersect
Direction by Idea
Design by LABORATORIES (Kensaku Kato, Hiroyuki Kishida)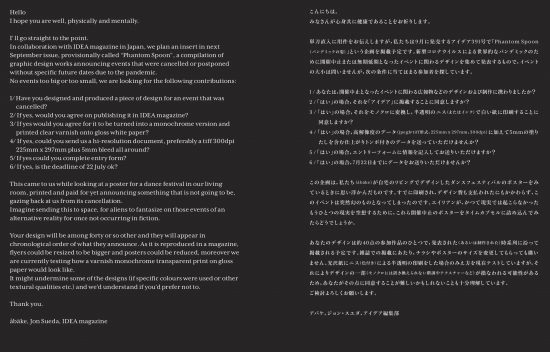 Due to the global pandemic, our daily lives and the way we communicate has been continuously forced to change. This situation, which has halted many economic and cultural activities, has not only affected society but also graphic design, overthrowing pre-existing notions about the form and use of design. 
The first half of this feature presents the Phantom Spoon project and introduces the phantom design projects of designers from around the world, who contributed with PR materials for exhibitions and events that were either canceled or postponed due to the pandemic. By presenting each graphic along with the circumstances in which the project was discontinued as well as the story of its production, a visual archive is created of this period of global lockdown, in which parallel forms of design expression were produced.
In the second half, we interviewed newspaper design departments from different countries about information graphics in the news media under the theme of "Data Journalism and Design". By paralleling the design expressions of different axes such as the reality that could have occurred and the one based on facts (what is believed to be), we will reflect on parallel design expressions in this time of crisis. 
I
Phantom Spoon
Cooperation by Åbäke, Jon Sueda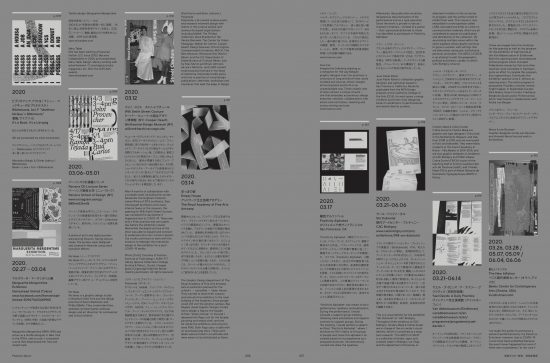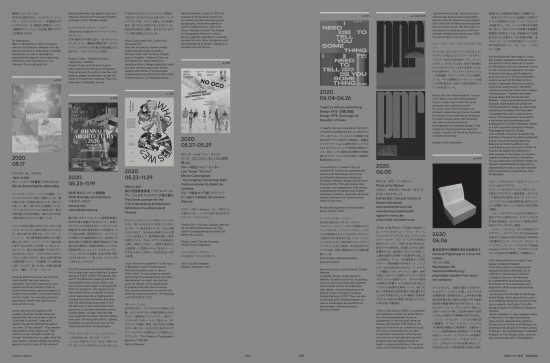 With the restrictions imposed by the global pandemic, which consequently paralyzed the world's transportation and logistics, led to the cancelation or postponement of events, including performances and exhibitions, as well as the suspension of exhibition activities involving the transportation of works, books, and goods. In such an unprecedented situation, the London-based design team, åbäke, came up with the idea for this project. In response to their suggestions, our editorial department and designer John Sueda sent an email inviting fellow designers to participate in the project. Thus, design works such as posters, leaflets, and PR materials from 44 designers and curators from all over the world were gathered and are highligthed in this chapter as "phantoms".
Bibliomania / Mina Tabei / No Ideas / Polymode / Ines Cox / Juan Pablo Rahal / Charles Mazé & Coline Sunier / Mevis & Van Deursen / Roxanne Maillet / BAD Studio / Ryu Mieno / Saki Souda / Åbäke and Sarah Garcin / Yoshihisa Tanaka / IN-FO.CO / Brigade Cynophile / Mathias Schweizer / Shinwoo Park / Koji Kurihara / Fanette Mellier / Atelier Baudelaire × GeneralPublic Studio / Information Office / Shiraz Abdullahi Gallab / Ohara Daijiro / FISK / So Hashizume / Traduttore, traditore / Omnivore, Inc / Richard Niessen / Jean-Claude Chianale / Studio Remote / Benny Van den Meulengracht-Vrancx / Chris Hamamoto & Jon Sueda, Berton Hasebe / Our Polite Society / New Documents / the Rodina / Ian lynam / Colpa / Yangyifan Dong / Minkyoung Kim and James Chae / Yui Takada / Ramon Tejada / León Muñoz Santini Studio / Laura Coombs and Mindy Seu
Contributors profile
Which mirror do you want to lick?
Insert of the Melbourne Edition (commentary and Japanese translation)
Which mirror do you want to lick?
Melbourne edition Insert
Edit and design by the curators
Exhibition photos: ©2020 Tobias Titz
Text contribution by Jon Sueda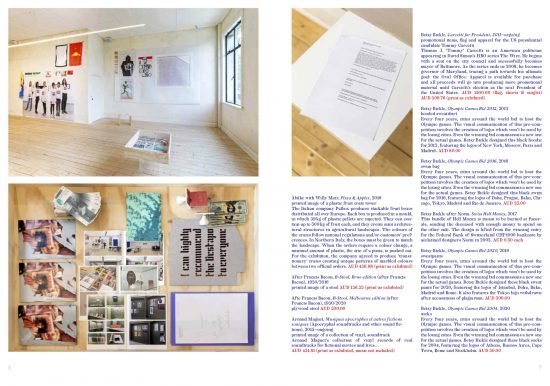 II
Data Journalism and Design
Cooperation by Yasuhito Nagahara, Chiharu Watabe, Hideko Kawachi
Nikkei Visual data (The Nikkei)
Interview with Naoyoshi Itatsu, Kenichiro Kamata (The Nikkei)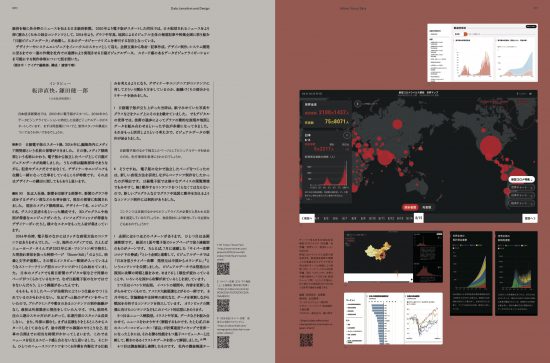 The New York Times
Interview with Wilson Andrews (The New York Times)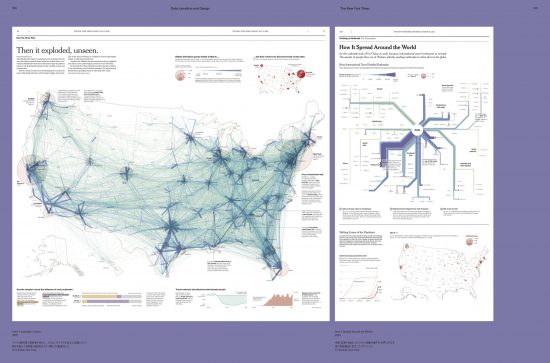 South China Morning Post
Interview with Darren Long (South China Morning Post)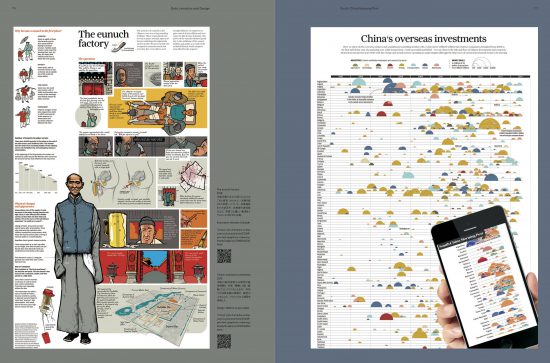 Information and Graphics in the Age of Digital Media: News, data, and visualization
Text by Yasuhito Nagahara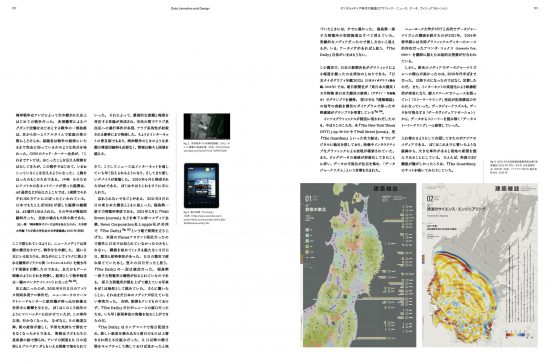 Infographic Spectacle
Text by Ken Ohyama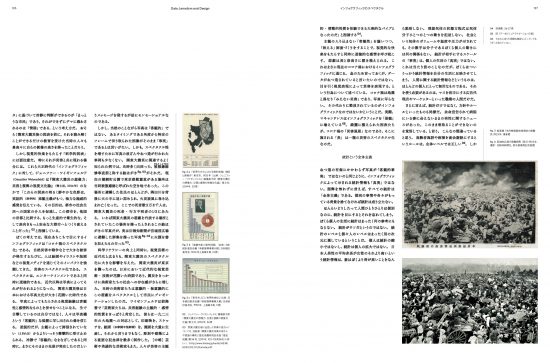 ---
An Icon Works: Labour and Visual Abstraction in Software
Text by David Caterini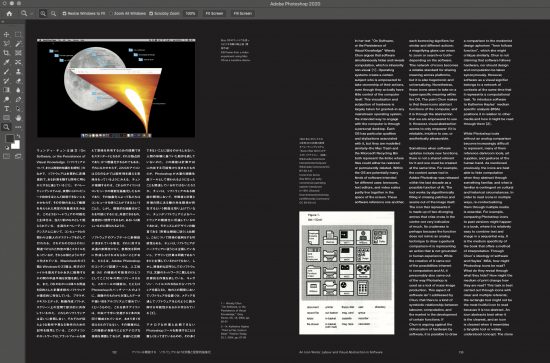 ---
Toda Tsutomu: Design with an eye on background
Design by Toshinobu Nagata
Photo by Satoshi Aoyagi
Cooperation by Toda Tsutomu Office + Chisako Imagaki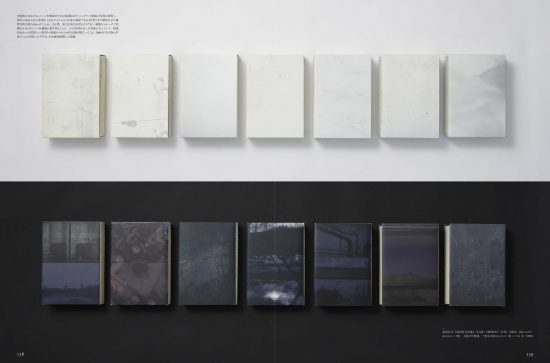 At the end of 2019, one designer retired from his work. Tsutomu Toda (born 1951) joined the Kousakusha when he met Masataka Matsuoka at the Kuwasawa Design Institute in 1974. While there, he was engaged in the design of the legendary magazine "Yu". When he became independent in 1977, he stood out in the design of the performance poster for the theater company "Tenjō Sajiki", led by Shuji Terayama. In the 1980s, he concentrated his work on editorial design. Since then, he has completely computerized the production of books and magazines before anyone else, setting the forefront of desktop publishing in Japan. The expression that explored the new possibilities pioneered by the computer, from the latter half of the 1980s to the 1990s, resulted in the book design and editorial design, becoming Merkmal. The multi-layered graphism had a great influence not only on the same generation but also on the next generation.
Toda's editorial design has undergone major changes since the 2000s. The visible multi-layered structure gradually disappears. In this article, we interviewed Hitoshi Suzuki, ​​who has had many exchanges with Toda, and discusses the essence of editorial design developed by Toda since the 2000s and his vision.
"I never take my eyes of the background" – An interview with Hitoshi Suzuki
Text by Toshinobu Nagata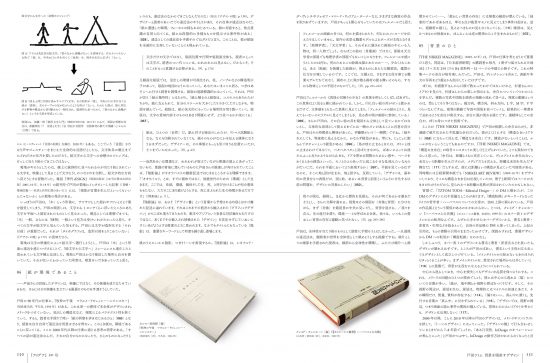 Tips and pots for design seeds – An insert with Tsutomu Toda + Hitoshi Suzuki
Text by Hitoshi Suzuki
---
Invisible / unintentional form An interview with Takahiro Kuramine
Direction by Toshinobu Nagata
Design by Hirofumi Abe / print gallery Tokyo, Kei Moriya
Photo by Kai Tamaki (p.169, pp.174-175)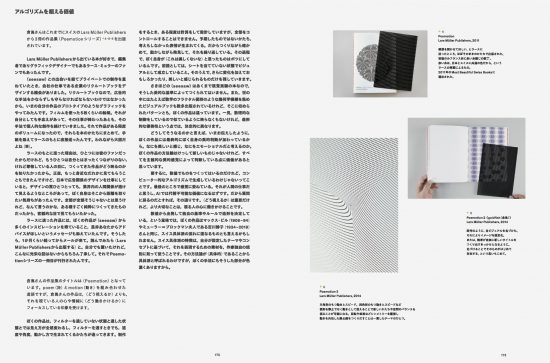 Takahiro Kurashima, who was born in 1970, studied graphic design at Musashino Art University, and then worked as an art director at an advertising agency in Tokyo. By contrast, as an independent production, he presents a work that uses the illusion that a moire pattern appears and moves when an attached sheet is placed on a printed abstract figure.
The solo exhibition "moiré motion emotion", which was held at Shirokane Print Gallery from March 14, 2020, was postponed or canceled within a week or so due to the COVID-19. In this article, while looking back on Kuramine's past activities based on his own explanations, we hear about the subject of this exhibition and creation.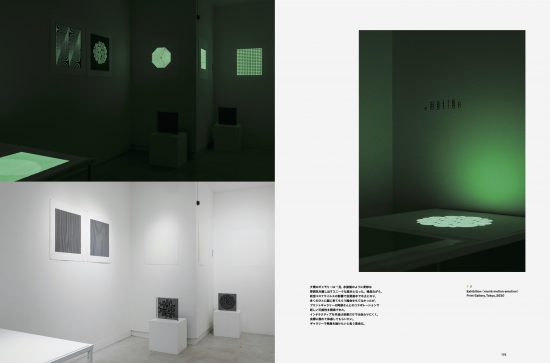 ---
[Talk] Noritake × Daijiro Ohara: An 8-year interim report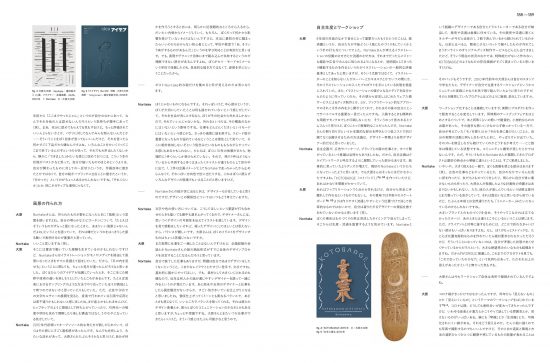 Illustrator Noritake is known for his simple black and white illustrations and shows his unique work that goes beyond client work. Daijiro Ohara is a graphic designer who works from the independent scene across popular culture with the theme of letters and physicality. In this article, two people who have been pursuing their respective quest through the turbulent 2010s, with events such as the globalization of economy and culture, changes in the social structure due to the spread of smartphones, disasters such as the Great East Japan Earthquake and COVID-19 pandemic, talk about keep making their works.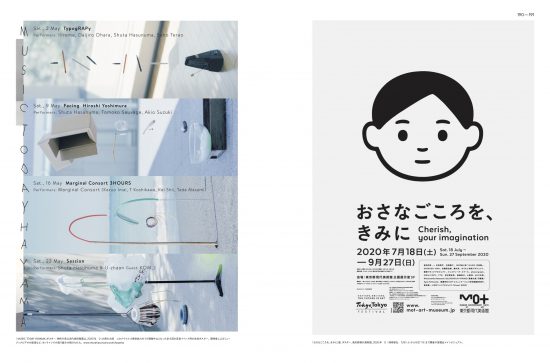 ---
Information
Book