---
Contributors Biography & Outline of the posters
2019.06.17
You can see contributors biography and outline of the posters of the "29th International Biennial of Graphic Design Brno 2020" in here.
 (IDEA magazine Issue 386)
---
1. Sulki & Min[page 90-91]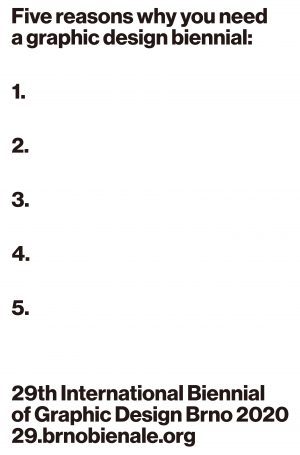 Sulki and Min (Choi Sulki and Choi Sung Min) are graphic designers working in Seoul, Korea. Their widespread work, from publications to installations, has been recognized internationally. For the Brno Biennial, they served as international jury members in 2012, and created a publication and exhibition Off-White Paper in 2014.
http://www.sulki-min.com/wp/
[About the poster]
In Korea, there are currently more than 16 major biennials. Big cities like Seoul, Gwangju, and Busan all have their own contemporary art biennials. We also have an architecture biennial, design biennial, craft biennial, and a calligraphy biennial. We even have a typography biennial! Many of them were, we suspect, initiated as property development and/or tourism projects. But organizing a large-scale exhibition every two years turned out to be such a commitment that some are now turning into "triennials." This is happening in a country where there is a plan to build 186 new museums by 2023. But we'll surely miss a graphic design biennial.
---
2. åbäke[page 92-93]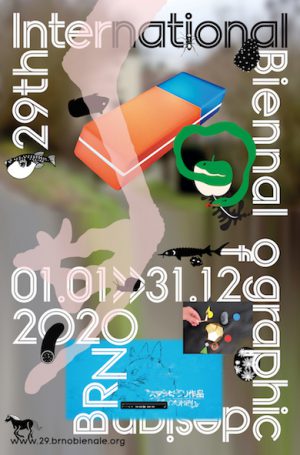 50 words to fairly define 19 years of activities of a collective is truly challenging. Short biographies predate the selfie but somehow follow similar rules of editing a version of oneself until we start to look very attractive indeed. We would have to start by saying that åbäke is a … 
http://abake.fr/
---
3. David Pons & Lissana Jouret[page 94-95]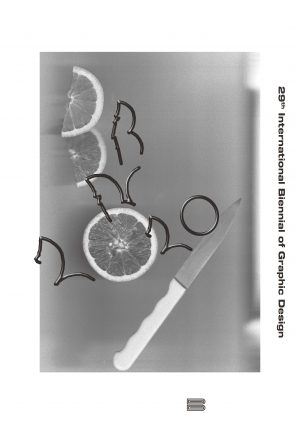 David is a graphic designer and Lissana is an artist based in Valence (fr). We are both interested in exoticism, endotism, pop culture and we translate these topics through photography, editing and installation.
@david.pons & @nadege_delacompta
---
4. Bibliomania: Alexandru Balgiu & Olivier Lebrun[page 96-97]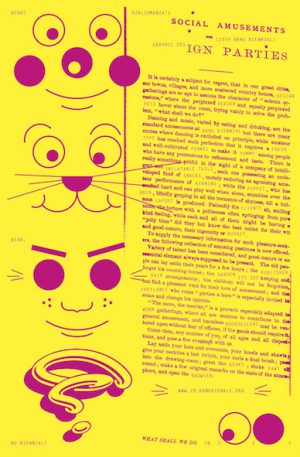 Books + Love + Fun = Bibliomania
---
5. Zak Group[page 96-97]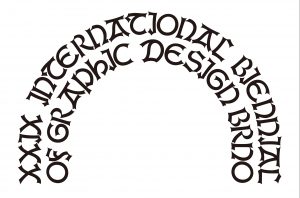 Zak Kyes is the founding partner and creative director of Zak Group. He leads a wide range of strategy and design projects including digital platforms, brand identities and collaborations with artists and museum directors.
https://www.zak.group/
---
6. Radim Peško[page 100-101, 126-127, 134-135]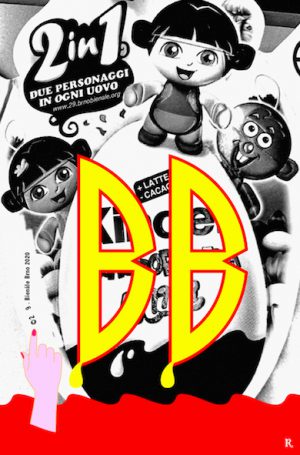 Radim Peško is designer and typographer based in London. Between 2011 and 2016 he was a part of organising board of Brno Biennial and co-curated its 26th and 27th editions. He teaches at Royal College of Art in London and Master in Type design at ECAL in Lausanne.
https://radimpesko.com/
---
7. Tamara Maletic / Linked by Air[page 102-103]
Our generative passion for the arts, education, and design is reflected in our clients. Unique among firms our size, we combine leading-edge visual design with the capability to undertake complicated projects – and transform institutions. Our designers and developers work tightly together and are inspired by one another.
https://www.linkedbyair.net/
---
8. Aaron Nieh[page 104-105]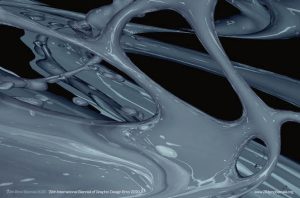 As an award-winning graphic designer and art director, Aaron is also a member of AGI. He currently runs his studio Aaron Nieh Workshop in Taipei.
http://aaronnieh.com/
---
9. Laura Pappa & Elisabeth Klement[page 106-107]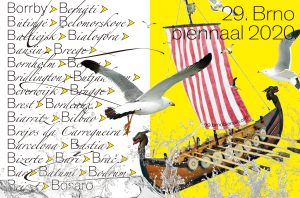 Elisabeth Klement & Laura Pappa are graphic designers based in Amsterdam. Their non-commissioned work encompasses various activities together and apart, such as teaching, curating, organising and publishing. Previously, they have organised the Asterisk Summer School and in the summer of 2017 they curated "Signals from the Periphery", an international exhibition of graphic design practices from the fringes, at the Tallinn Art Hall.
https://www.laurapappa.biz/
https://www.elisabethklement.com/
---
10. Noviki: Katarzyna Nestorowicz & Marcin Nowicki[page 108-109]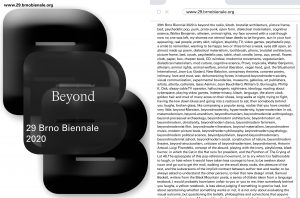 Noviki studio's signature is a beyond critical approach to graphic design and the idea of constant redefining the borders of their wide-ranging practice. Noviki create works across various media, generally in close dialogue with artists and curators. Noviki explore publishing, curatorial and exhibition practice in beyond artistic times. http://www.noviki.net/
---
11. Shin Akiyama[page 110-111]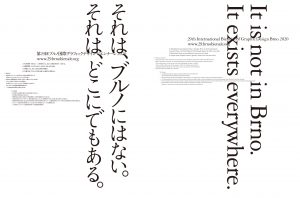 Graphic designer / publisher. Since the mid 1990s, he has worked on a number of art and architecture books and exhibition designs. In late 2010, he dissolved his office "schtücco" in Tokyo and moved to a heavy snowfall area in Niigata. Started solo activities in 2011 based on the his publishing label "edition.nord". At the Brno Biennale, he was selected for the 2012, 2016, and 2018 international exhibitions, and visited Brno twice. He is a judge of Japan Book Design Award and teaching at MeMe design school.
http://editionnord.com/
▼You can download the outline of participation on the poster from here.
idea386_BB2020_ShinAkiyama_text
---
12. Alice Gavin & Valentin Bigel at Groupe CCC[page 112-113]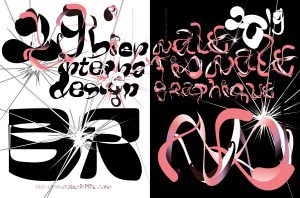 Alice Gavin and Valentin Bigel are Groupe CCC – a creative design studio. Groupe CCC is a group of friends as well as a group of work. The studio seeks new forms of collaborations and operates on the internet. Groupe CCC is made of meta projects, meaning each project is part of global research, and each projects influences itself and circulates inside the studio; it's something global.
http://www.groupeccc.com/
---
13. Alyssia Lou[page 114-115]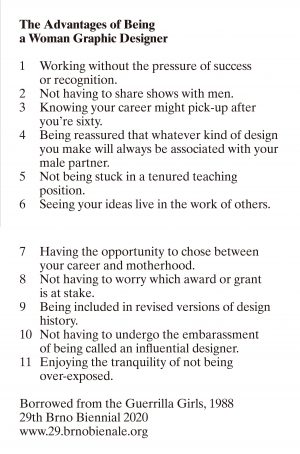 Alyssia Lou is a French graphic designer based in London. After graduating in France, she went to London to develop her practice. Her work is inspired by alternative realities and everyday encounters. She currently collaborates with the studio OK-RM, London.
http://alyssialou.com/
---
14. LPPL[page 116-117]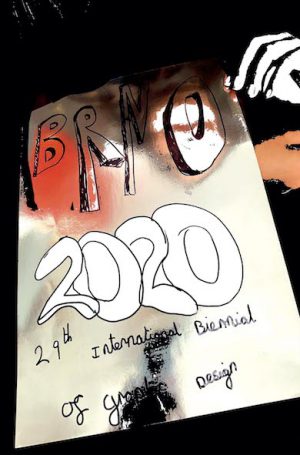 LPPL is an artist, a wall writer and an illustrator living and working in London. She has designed the logo for the Alqamar film festival and is collected by the FRAC Grand Large in Dunkirk.
---
15. Katja Gretzinger[page 118-119]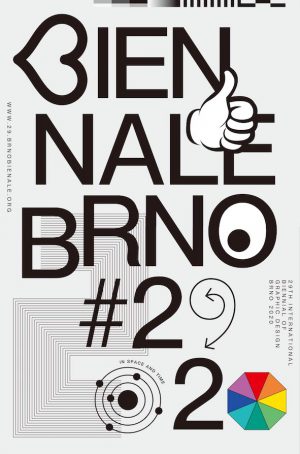 Katja Gretzinger is a graphic designer and design researcher based in Berlin. She is interested in design knowledge and design experimentation, its production and mediation. She works mainly in the cultural field in editorial, poster-, and typedesign.
http://www.katjagretzinger.com/
---
16. In the shade of a tree: Sophie Demay & Maël Fournier-Comte[page 120-121]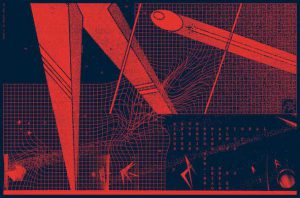 Founded by Sophie Demay and Maël Fournier-Comte in 2018, In the shade of a treeis a graphic design studio based in London and Paris working very closely and in collaboration with institutions, artists, curators, festivals and designers.
http://in-the-shade-of-a-tree.com/
---
17. Jon Sueda & chris hamamoto[page 122-123]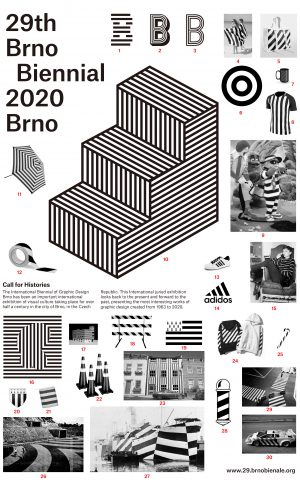 Jon Sueda is the founder of Stripe SF, which specializes in print and exhibition design for art and culture. He is currently the Chair of the MFA Design program at California College of the Arts. christopher hamamoto is a San Francisco Bay Area based designer. He is an assistant professor at California College of the Arts, and maintains an independent graphic design practice. 
http://www.stripesf.com/
http://chrishamamoto.com/
▼List of images source, please see below.
idea386_BB2020_imagereference_Jon&chris
---
18. Jean-Claude Chianale[page 124-125]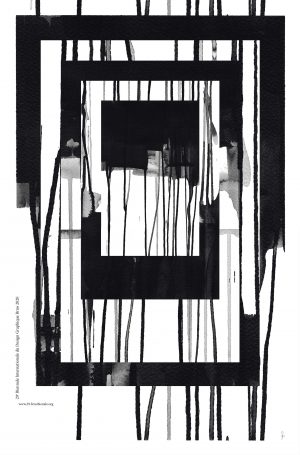 Graphic designer/author, lives and works in Paris.
http://www.jeanclaude-design.com/
---
19. Na Kim[page 128-129]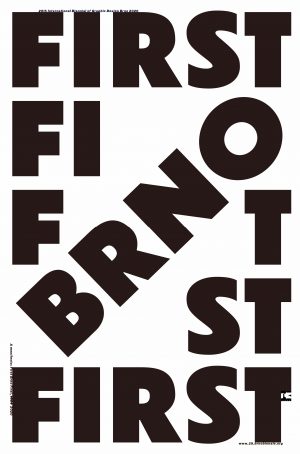 Na Kim is currently based in Seoul and Berlin, as a member of Table Union. She has focused on the visual language on autonomous works as well as various cultural commissioned projects. Her works have been invited to join many international exhibitions at museums like V&A and MoMA. In addition, Na Kim has been a curator for several international exhibitions and has worked on Fikra Graphic Design Biennial as one of the artistic directors.
http://ynkim.com/
[About the poster]
A manifesto: First Brno First, 1964 2020   Na Kim
1964
The Brno International Biennial of Graphic Design, established in 1964 by the Moravian Gallery, is one of the oldest and most important events in the field of visual communication worldwide. The birth of the Brno Biennial took place against a backdrop of the cultural and political situation in the 1960s when events were driven by efforts on the part of Czechoslovak artists and designers to develop their right to free artistic expression, tempered by the possibility of comparing what they designed with international counterparts.
In the same year, 1964, The First Things First, written by a British graphic designer, Ken Garland, was published in London by 22 signatories in. It threw down a challenge to designers and other visual communicators that has only grown more urgent with the passing of the years.
2000
In 2000, at the 19th of Brno International Biennial of Graphic Design, Rick Poyner gave a lecture called Manifesto First Things First 2000, to discuss the historical background to the manifesto, the thinking that lay behind it. The First Things First 2000 was an updated version of the earlier First Things First 1964 Manifesto, published in 2000 by some of the leading lights of the graphic design, artistic and visual arts community. It was republished by Emigre, Eye and other important graphic design magazines and has stirred controversy (again) in Graphic design.
2020
The poster for 29th Brno International Biennial of Graphic Design in 2020, A manifesto: First Brno First, 1964 2020, collocates these two parallel histories and backgrounds.
www.29.brnobienale.org
[First Things First, a manifesto, 1964]
We, the undersigned, are graphic designers, photographers and students who have been brought up in a world in which the techniques and apparatus of advertising have persistently been presented to us as the most lucrative,effective and desirable means of using our talents. We have been bombarded with publications devoted to this belief, applauding the work of those who have flogged their skill and imagination to sell such things as: cat food, stomach powders, detergent, hair restorer, striped toothpaste, aftershave lotion, before shave lotion, slimming diets, fattening diets, deodorants, fizzy water, cigarettes, roll-ons, pull-ons and slip-ons.

By far the greatest effort of those working in the advertising industry are wasted on these trivial purposes, which contribute little or nothing to our national prosperity.
In common with an increasing number of the general public, we have reached a saturation point at which the high pitched scream of consumer selling is no more than sheer noise. We think that there are other things more worth using our skill and experience on. There are signs for streets and buildings, books and periodicals, catalogues, instructional manuals, industrial photography, educational aids, films, television features, scientific and industrial publications and all the other media through which we promote our trade, our education, our culture and our greater awareness of the world.
We do not advocate the abolition of high pressure consumer advertising: this is not feasible. Nor do we want to take any of the fun out of life. But we are proposing a reversal of priorities in favour of the more useful and more lasting forms of communication. We hope that our society will tire of gimmick merchants, status salesmen and hidden persuaders, and that the prior call on our skills will be for worthwhile purposes. With this in mind we propose to share our experience and opinions, and to make them available to colleagues, students and others who may be interested.
signed:
Edward Wright, Geoffrey White, William Slack, Caroline Rawlence, Ian McLaren, Sam Lambert, Ivor Kamlish, Gerald Jones, Bernard Higton, Brian Grimbly, John Garner, Ken Garland, Anthony Froshaug, Robin Fior, Ger-mano Facetti, Ivan Dodd, Harriet Crowder, Anthony Clift, Gerry Cinamon, Robert Chapman, Ray Carpenter, Ken Briggs
[First Things First Manifesto, 2000]
We, the undersigned, are graphic designers, art directors and visual communicators who have been raised in a world in which the techniques and apparatus of advertising have persistently been presented to us as the most lucrative, effective and desirable use of our talents. Many design teachers and mentors promote this belief; the market rewards it; a tide of books and publications reinforces it.
Encouraged in this direction, designers then apply their skill and imagination to sell dog biscuits, designer coffee, diamonds, detergents, hair gel, cigarettes, credit cards, sneakers, butt toners, light beer and heavy-duty recreational vehicles. Commercial work has always paid the bills, but many graphic designers have now let it become, in large measure, what graphic designers do. This, in turn, is how the world perceives design. The profession's time and energy is used up manufacturing demand for things that are inessential at best.
Many of us have grown increasingly uncomfortable with this view of design. Designers who devote their efforts primarily to advertising, marketing and brand development are supporting, and implicitly endorsing, a mental environment so saturated with commercial messages that it is changing the very way citizen-consumers speak, think, feel, respond and interact. To some extent we are all helping draft a reductive and immeasurably harmful code of public discourse.
There are pursuits more worthy of our problem-solving skills. Unprecedented environmental, social and cultural crises demand our attention. Many cultural interventions, social marketing campaigns, books, magazines, exhibitions, educational tools, television programs, films, charitable causes and other information design projects urgently require our expertise and help.
We propose a reversal of priorities in favor of more useful, lasting and democratic forms of communication – a mind shift away from product marketing and toward the exploration and production of a new kind of meaning. The scope of debate is shrinking; it must expand. Consumerism is running uncontested; it must be challenged by other perspectives expressed, in part, through the visual languages and resources of design.
In 1964, 22 visual communicators signed the original call for our skills to be put to worthwhile use. With the ex-plosive growth of global commercial culture, their message has only grown more urgent. Today, we renew their manifesto in expectation that no more decades will pass before it is taken to heart.
Jonathan Barnbrook, Nick Bell, Andrew Blauvelt, Hans Bockting, Irma Boom, Sheila Levrant de Bretteville, Max Bruinsma, Siân Cook, Linda van Deursen, Chris Dixon, William Drenttel, Gert Dumbar, Simon Esterson, Vince Frost, Ken Garland, Milton Glaser, Jessica Helfand, Steven Heller, Andrew Howard, Tibor Kalman, Jeffery Keedy, Zuzana Licko, Ellen Lupton, Katherine McCoy, Armand Mevis, J. Abbott Miller, Rick Poynor, Lucienne Roberts, Erik Spiekermann, Jan van Toorn, Teal Triggs, Rudy VanderLans, Bob Wilkinson
*International Symposium, Design as an Open Space
The 19th Brno International Biennial of Graphic Design, 2000
Manifesto First Things First 2000 by Rick Poynor
http://www.old.bienale-brno.cz/2000/en/mez_symp/rick_a.html
---
20. Kazunari Hattori[page 130-131]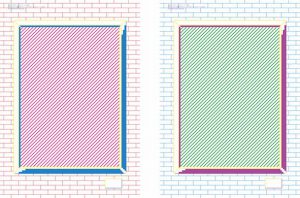 Graphic designer. Born in Tokyo in 1964. Graduated from Tokyo University of the Arts, Department of Design in 1988. After the "Light publicity", he has been active as a freelance since 2001. His works includes art directions, art exhibition posters, PR graphic designs, book designs, logotypes and more.
---
21. Mevis & van Deursen[page 132-133]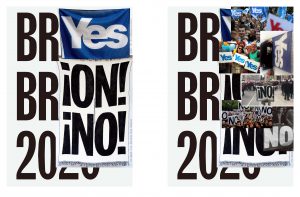 Graphic designers Linda van Deursen and Armand Mevis live and work in Amsterdam. They are proud receivers of the 26th Brno Biennial Grand Prix award in 2012 for the identity of the Temporary Stedelijk at the Stedelijk Museum in Amsterdam.
---
22. Betsy Bickle[page 136-137]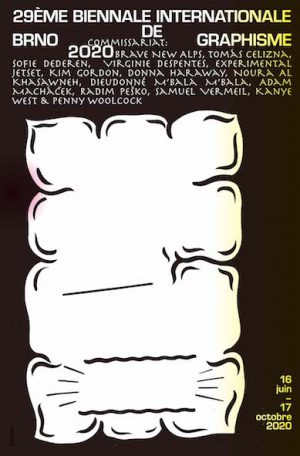 Betsy Bickle is a New-York born graphic designer who started working in the seventies. She has supported the Presidency campaign of Thomas Carcetti since 2012.
---
23. Pinar&Viola[page 138-139]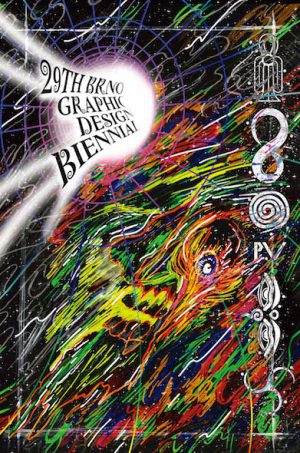 Creative studio founded by Pinar Demirdag and Viola Renate in 2009 in Amsterdam. They create highly aesthetic images for the zeitgeist, using them as special effect for fashion and technology. Through the power and charm of beauty, their work promotes social justice, abundance, prosperity, a more conscious and healthier world.
https://www.pinar-viola.com/
---
24. Wayne Daly & Shumon Basar[page 140-141]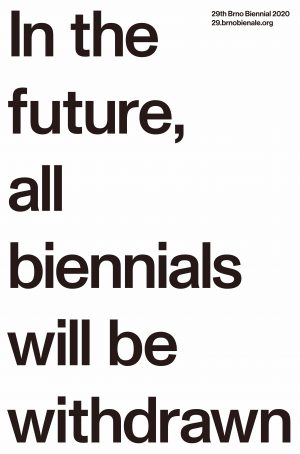 Wayne Daly is one half of graphic design practice Daly & Lyon, together with Claire Lyon. Shumon Basar is a writer, thinker and cultural critic.
---
25. Dan Eatock[page 142-143]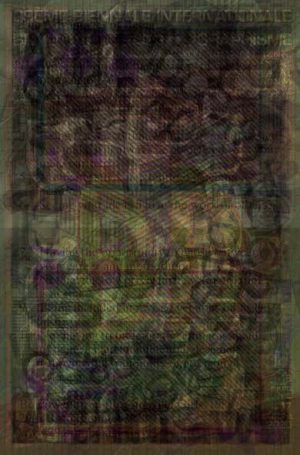 ---
26. Ryan Gander with Zbigniew Zuławski[page 145-148]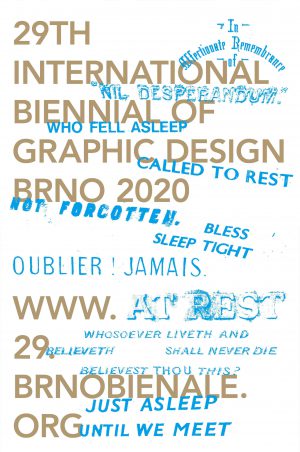 Ryan Gander is an artist living and working in Suffolk and London. He studied at Manchester Metropolitan University, UK, the Rijksakademie van Beeldende Kunsten, Amsterdam, NL and the Jan van Eyck Akademie, Maastricht, NL. The artist has been a Professor of Visual Art at the University of Huddersfield and holds an honorary Doctor of the Arts at the Manchester Metropolitan University and the University of Suffolk. In 2017 he was awarded an OBE for services to contemporary arts. In 2019 he was awarded the Hodder Fellowship at Princeton University. 
Through associative thought processes that connect the everyday and the esoteric, the overlooked and the commonplace, Gander's work involves a questioning of language and knowledge, as well as a reinvention of both the modes of appearance and the creation of an artwork. His work can be reminiscent of a puzzle, or a network with multiple connections and the fragments of an embedded story. It is ultimately a huge set of hidden clues to be deciphered, encouraging viewers to make their own associations and invent their own narrative in order to unravel the complexities staged by the artist.
---